Post from Ann Miller Art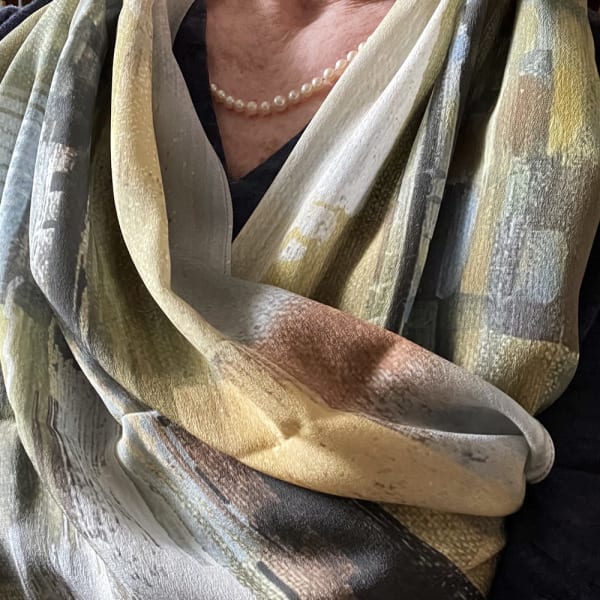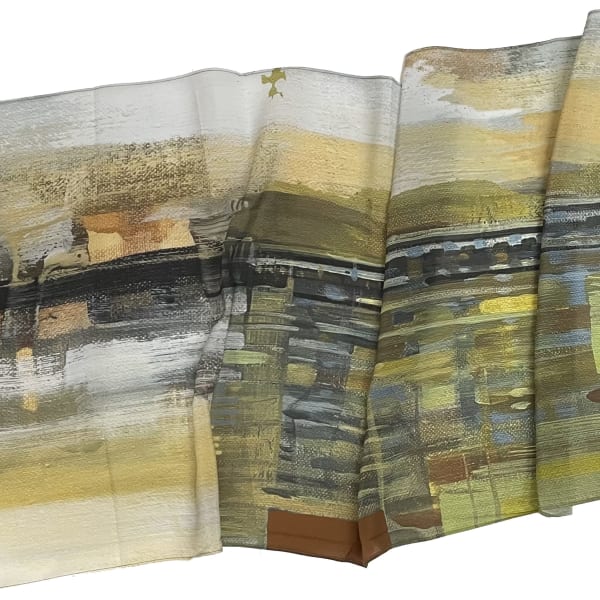 This pastel landscape scarf is 17 inches wide and 64 inches long in 100% silk crepe de chine. The rolled hem is beautifully stitched with well-formed corners. The design is from my 2019 abstract painting "Yellow Mirage", and the color is sumptuous with gold and peach, muted green and grey. I wear one of my scarves every day, even in the house. They drape beautifully and feel wonderful around the neck.
Buy Product
Inquire More
---
About Ann Miller Art
I'm a native San Francisco Bay Area artist, painter, calligrapher, and designer. I use written forms and the human figure as subjects for my art, using a rich and earthy color palette. Since I also teach calligraphy and letterform, you will see ancient marks and Neolithic shapes and symbols embedded in the design. A phrase or personal text might also become a device for stroked letterforms and graphic shapes. Using water-based media on paper and canvas, I enjoy the full spectrum of color juxtapositions, in abstract and structural forms, weaving together calligraphic gesture, signs and symbols with a deep sense of space, realistic as well as non-representational. The results that I want to share with you, as well as the original paintings and drawings, are items that are useful and beautiful. There are silk scarves to wear, mugs and pillows, paper prints for your walls, and if you can visit my studio you will see my original paintings and drawings. I look forward to meeting you and I hope you enjoy my work!
View more from Ann Miller Art