Post from Alain Art Paintings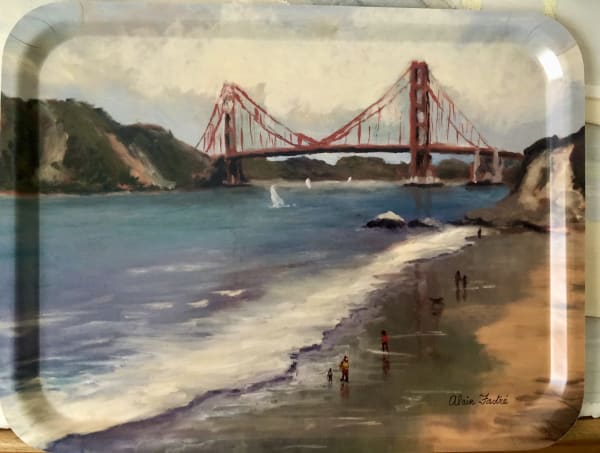 Golden Gate Bridge, San Francisco, California. Handcrafted tray made of real wood from an original oil painting. Made of birch veneer laminated layers, this tray is very light, waterproof and very unique. It's a perfect houseware item to serve food and/or drinks and to start a conversation about its inspiration and making. Trays are available in two sizes (large 17"x13", small 11"x8").
Inquire More
---
About Alain Art Paintings
Welcome, Born in a small village in Belgium, I like to describe myself as an American with European roots, very happy to live in the magical San Francisco Bay Area. Self taught, I have been drawing and painting for more than 30 years. During that time, I have been able to combine my passion with a very successful international business career. During those years, I had the opportunity to work in 29 different countries. I have seen beautiful and iconic places that have printed indelible memories in my mind, becoming the subjects of my artwork. Even if I recently started oil and acrylic painting, my preferred and most praised medium is watercolor. I like the spontaneity of the technique, less being often more, the interaction between the water, the paper and the pigments. I like the challenges of painting in "reverse" when the white of clouds or waves need to be reserved as the paper itself.
View more from Alain Art Paintings