Post from Planted Places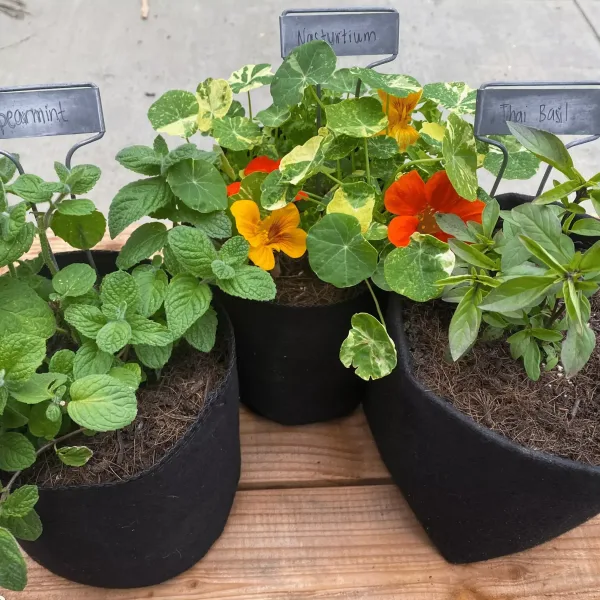 Organic Herb Garden Kit First-time plant parent or haven't had much luck growing things? Fear not! We send you pre-grown seedlings to set you up for success. Growing herbs is an almost fail-proof way to discover your green thumb. Plus, your plants will produce all year in the right growing conditions! You can grow them indoors as well if you have a bright window with direct sunlight. What's Inside the Herb Kit? 🌱 6 certified organic seedlings - combination of seasonal herbs and edible flowers 🌱 3 premium felt grow pots 🌱 Proprietary organic living soil to fill pots 🌱 Organic soil amendments 🌱 3 zinc lined metal stakes for plant labels 🌱 Detailed instructions for planting, caring for, and harvesting Option to add a Custom Made Farm Crate to showcase your herbs! 🌱PLEASE NOTE: To keep your new seedlings fresh and safe, we ship in 2 SEPARATE SHIPMENTS. One box for the soil and garden accessories and the other for the certified organic seedlings. **We ship live plants. Not everyone wants to deal with live plants over the holidays and we get that. Here's what we do...we send your gift recipient a gift card that showcases the gift with an extra goodie (i.e. herb bath bomb) to open during the holidays. We ship the live plants based on your preference. After 12/19, all plants will be shipped 3rd week of January unless specified otherwise.
Buy Product
Inquire More
---
About Planted Places
Hey - I'm Christy! And I am on a mission to help people live their healthiest life possible. The bottom line is that growing food in living soil at home is better for you than buying produce at the grocery store and I am on a mission to show people how easy and rewarding it can be. A couple of years ago I had my own health issues which forced me to take a closer look at what I was putting in my body. I learned that the faster way to a healthier gut was to eat more leafy greens, and not all leafy greens were created equal. I figured the best way to get the most nutrition out of my food was to grow as much of it as possible! That was my ah-ha moment -- and viola, The Planted Wall was born. We began our mission to create a system that would make it easy for everyone to grow food at home and get the full nutrition from their food! The Planted Membership is a simple way to learn how to grow the healthiest greens available in living soil using small containers and our proprietary vertical gardening systems. It's a box subscription that sends you everything you need to grow organic veggies down to the soil. Plus it's a membership that teaches you how to grow food through our gardening training and custom tutorials. We include cooking and wellness classes all tailored to help you live a healthy lifestyle. There are a million reasons to join, but your very own health and the health of your family should rank right up there at the top! Get your hands dirty!
View more from Planted Places