Post from Sunnyvale Community Services Auxiliary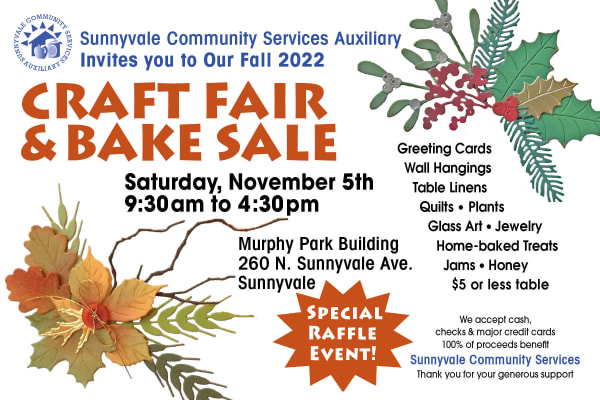 It's this Saturday! The SCS Auxiliary Holiday Craft and Bake sale! November 5, 2022 from 9:30am to 4:30pm. Shop for unique, handmade gift items. Participate in a multiple item, special raffle event. 100% of the proceeds benefit Sunnyvale Community Services. The sale will be held at Murphy Park Building, 260 N. Sunnyvale Avenue in Sunnyvale. In addition to featuring Greeting cards, Wall hangings, Table linens, Quilts, Plants, Glass art, Jewelry, Home-baked treats, Jams & Honey, and a $5-of-less table, we are excited to offer a special raffle event with five stunning pieces which will be raffled separately. The raffle items are; two exceptional quilted wall hangings, a beautiful quilted throw, an a one of a kind fused glass platter, and an autumn gift crate filled with food, crafts, gift certificates and more, easily a $100+ value! All pieces are handmade by the crafters and bakers of Sunnyvale Community Services Auxiliary. All proceeds support Sunnyvale Community Services.
Inquire More
---
About Sunnyvale Community Services Auxiliary
The Sunnyvale Community Services Auxiliary is a volunteer group composed of crafters and others who are committed to supporting the programs of Sunnyvale Community Services (SCS). We host craft and bake sales with 100% of the proceeds going directly to SCS programs. We strive to offer a variety of items with a range of prices so shoppers can find something that fits their budget. Some examples of sale items: seasonal decorative pieces, quilts and functional sewn, knitted and crocheted items, greeting cards, jewelry, plus delicious baked goods, jams, and jellies.
View more from Sunnyvale Community Services Auxiliary