Post from Bay Area Wag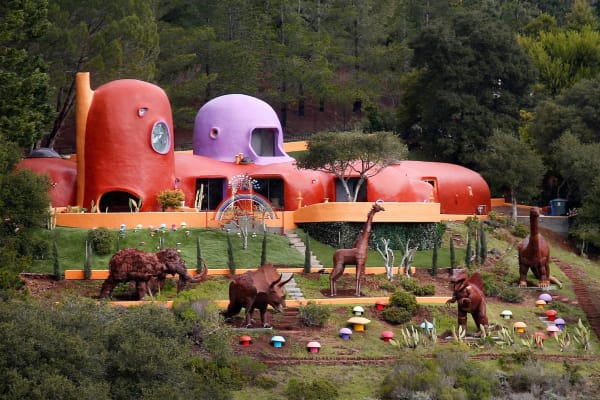 A Local Favorite Many people who glimpse it from 280 Highway love the Flintstone House, but a lot of folks in Hillsborough loathe it. The 2,700-square-foot house, which looks a little domed moon colony marooned in one of the Bay Area's wealthiest communities, was erected by architect William Nicholson in 1976. Nicholson erected the experimental structure using monolithic dome construction, which involves spraying concrete over huge inflated balloons covered by steel and rebar mesh frames. This gives the house its unique bubbly look. Longtime Bay Area residents will remember when the 3-bedroom, 2-bath house was painted white, and lore was George Lucas lived in it (that doesn't appear to be true). Locals tried to get the house turned down when the foundation began to sink in the 1980s, but it survived, and took revenge on its detractors by getting painted an arresting shade of orange around 2000. In 2017, media heiress Florence Fang bought the home and began amping up its Stone Age associations by adding sculptures of dinosaurs and candy colored mushrooms, which sent the neighbors into a tizzy. She beat back legal challenges and all that architectural whimsy remains. If you're headed north, it's on right side of the highway, just north of Crystal Springs Road. Don't hang about — the neighbors have been through enough (45 Berryessa Way, Hillsborough).
Inquire More
---
About Bay Area Wag
Whim Local has teamed with CultureWag--only the best curator of culture and entertainment in the galaxy--to bring you Bay Area Wag, a special newsletter for local lovers of the best place on earth. You'll find our recommendations for places of eat, shop and be widly entertained, from San Rafael to Gilroy, from Menlo Park to Danville -- and far beyond. What's a Wag? Your witty, hooked-in friend, who always gives you scoop on the best things life has to offer. In other words, a smarty just like yourself. Enjoy!
View more from Bay Area Wag