Post from Life of Spice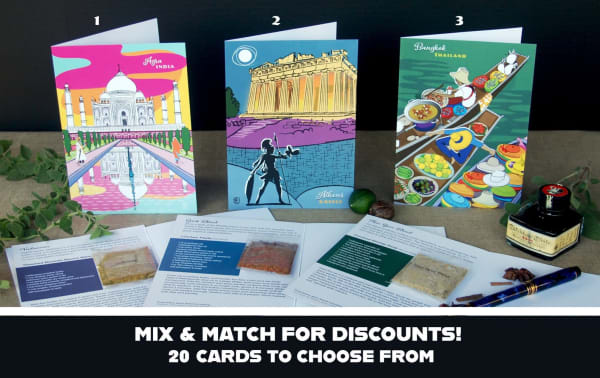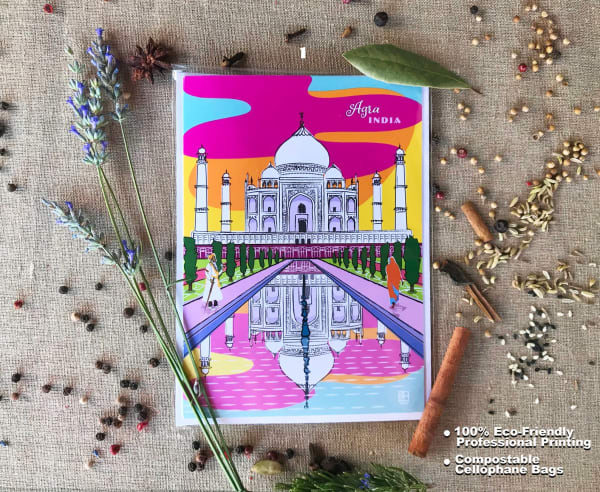 Mix and Match Greeting Card, spice pack and recipe, original art, eco-friendly, greeting card gift, world travel, spice greeting card. FREE Shipping!
Buy Product
Inquire More
---
About Life of Spice
Danae McLaughlin is an award-winning executive chef, born and raised in the San Francisco Bay Area who has an extensive culinary background. (affairecullinaire.com) Sandra Hovancik is an accomplished and highly versatile illustrator and textile designer from NYC who relocated to the San Francisco Bay area 25 years ago. (hovancikgraphics.com) So, what happens when an adventure-seeking artist collides with a like-minded gourmet chef? They combine their world travel experiences and talents into an incredible new venture – Life of Spice! The two women started this business when Covid abruptly ended both of their careers. With no work or travel, they decided to combine their talents and came up with the idea of creating greeting cards relating to their combined traveling adventures. Danae creates the spice blends and the recipes based on the flavors she experienced during her travels. Sandy creates the artwork and graphics that coincide with these places and recipes. Over the past year this partnership has expanded. Their products now include sampler gift boxes, recipe cards and books, seasoning salts, and giclee prints of all the original artwork in various sizes. Recently they added a line of "Seasoning's Greetings" including winter themed images, festive spice blends, delicious holiday recipes, mulling spices and an artisan tea sampler. The spices are sourced from around the world in whole form and organic whenever possible. They are created in small batches to ensure a high quality and freshness. These spice blends are crafted in a commercial kitchen using equipment that is soy free, dairy free, nut free and gluten free. There is no salt, MSG, chemical additives or preservatives. Their retail storefront is https://www.etsy.com/shop/lifeofspiceshop, and they are developing a wholesale sales channel as well.
View more from Life of Spice