Post from Angelo Lopez Illustration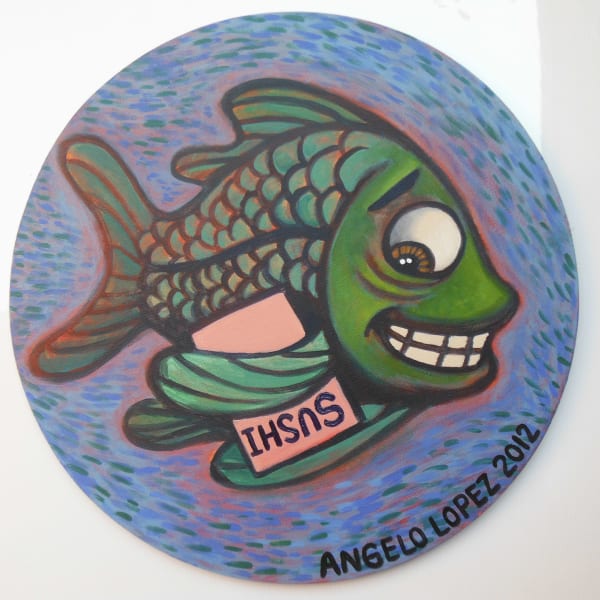 GUILTY PLEASURE by Angelo Lopez. 16" diameter. Acrylic on canvas. My wife loves sushi. With knowledge of this, on our first date, I took her to a sushi restaurant in Japan Town in San Jose. Since that time, we have gone to several sushi restaurants in San Jose, Sunnyvale, Mountain View and the wider San Francisco Bay Area. I have several fond memories of sitting in the sushi bar with my wife and nieces watching sushi boats float past me. My nieces picked up the love of sushi from my wife. The ironic thing is that I really don't like eating fish. But I love California rolls. And there is a great spam sushi that would appeal to anyone who grew up as a military brat, as I did. This painting would be a great gift for a friend or spouse who loves sushi.
Buy Product
Inquire More
---
About Angelo Lopez Illustration
I am an artist who who enjoys creating whimsical cartoon paintings and realistic paintings of the local neighborhood. Since graduating with a degree in illustration, I have painted murals for the Berryessa branch of the San Jose Public Library, Russo McEntee Academy in San Jose, the children's department of the Sunnyvale Public Library and the Sunnyvale Art Gallery. I have also painted art for utility boxes in Santa Clara and Campbell. Since December 2011, I've been the regular weekly political cartoonist for the Philippines Today, a Filipino American newspaper based in the San Francisco Bay Area. In August 2019, the Philippines Today merged with the Philippine News and is now called the Philippine News Today. I won the 2013, 2015, 2016 and 2018 Sigma Delta Chi award for editorial cartooning for newspapers with a circulation under 100,000. I have also won the 2016 Robert F. Kennedy Book and Journalism Award for Editorial Cartoons. I won first prize for the Best of the West editorial cartooning contest in 2016 and third prize in 2017. I am a member of the Society of Children's Book Writers and Illustrators, the Association of American Editorial Cartoonists and the Sunnyvale Art Club.
View more from Angelo Lopez Illustration