Post from Angelo Lopez Illustration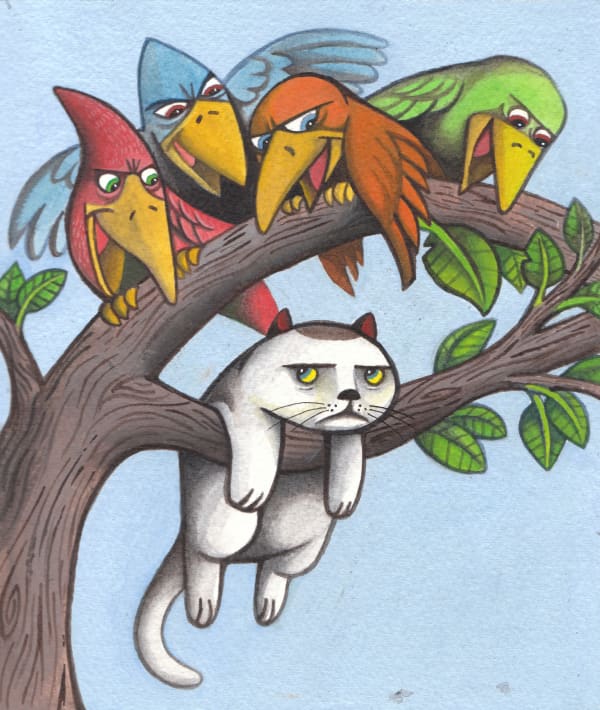 JASPER AND THE BIRDS By Angelo Lopez, Acrylic on watercolor paper, artwork is 7" x 9", black frame is 15" x 15" Growing up, I never had a pet. When I started dating my wife, she had a cat named Jasper. At first I wasn't sure how I would get along with Jasper. But when I moved in with my wife, I grew to love Jasper even though he was a lazy cat. Never having had a pet before, I didn't realize that a person could get so attached to a pet. But I did. Jasper passed away in 2012 and I still miss him. He has inspired several pieces of artwork. If you ever feel lonely or on the outside looking in, you can empathize with this painting of Jasper and some annoying birds. Jasper is annoyed, but is too lazy to climb down the tree. But he knows the branch will eventually break, so he waits for gravity to do its thing. If you have had a bad day and you feel alone, just look at this painting and know that eventually things will get better.
Buy Product
Inquire More
---
About Angelo Lopez Illustration
I am an artist who who enjoys creating whimsical cartoon paintings and realistic paintings of the local neighborhood. Since graduating with a degree in illustration, I have painted murals for the Berryessa branch of the San Jose Public Library, Russo McEntee Academy in San Jose, the children's department of the Sunnyvale Public Library and the Sunnyvale Art Gallery. I have also painted art for utility boxes in Santa Clara and Campbell. Since December 2011, I've been the regular weekly political cartoonist for the Philippines Today, a Filipino American newspaper based in the San Francisco Bay Area. In August 2019, the Philippines Today merged with the Philippine News and is now called the Philippine News Today. I won the 2013, 2015, 2016 and 2018 Sigma Delta Chi award for editorial cartooning for newspapers with a circulation under 100,000. I have also won the 2016 Robert F. Kennedy Book and Journalism Award for Editorial Cartoons. I won first prize for the Best of the West editorial cartooning contest in 2016 and third prize in 2017. I am a member of the Society of Children's Book Writers and Illustrators, the Association of American Editorial Cartoonists and the Sunnyvale Art Club.
View more from Angelo Lopez Illustration