Post from Angelo Lopez Illustration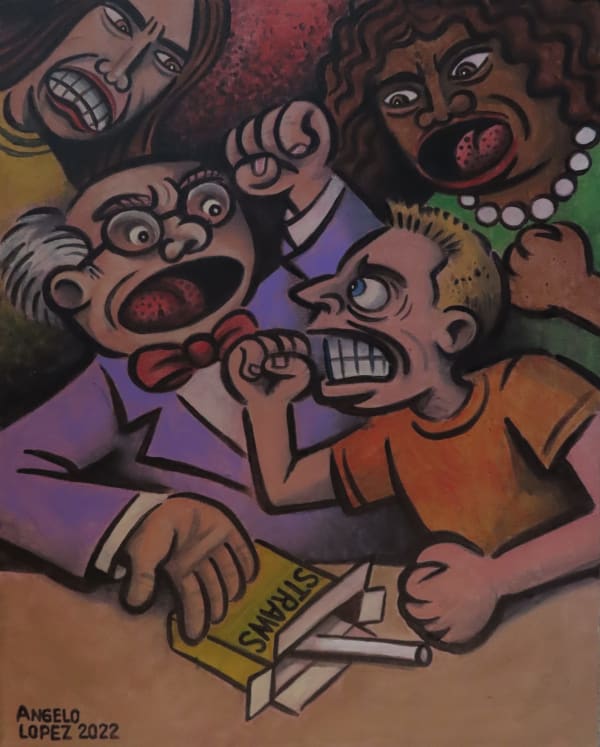 THE LAST STRAW by Angelo Lopez, 16 x 20, Acrylic on canvas I have always loved puns. When I was a kid, I loved watching Abbott and Costello, the Marx Brothers, Bob Hope and Bing Crosby and all the great movie comedians of the 1930s and 1940s. Those many hours of watching classic comedies have instilled in me a lifelong love of corny humor and puns. I do whimsical paintings paintings that appeals to children and adults who like to look at artwork that makes them smile. If you are hard at work and want a moment to destress, you can look at this painting and be reminded that whatever you are stressing about won't last and that happier days are ahead.
Buy Product
Inquire More
---
About Angelo Lopez Illustration
I am an artist who who enjoys creating whimsical cartoon paintings and realistic paintings of the local neighborhood. Since graduating with a degree in illustration, I have painted murals for the Berryessa branch of the San Jose Public Library, Russo McEntee Academy in San Jose, the children's department of the Sunnyvale Public Library and the Sunnyvale Art Gallery. I have also painted art for utility boxes in Santa Clara and Campbell. Since December 2011, I've been the regular weekly political cartoonist for the Philippines Today, a Filipino American newspaper based in the San Francisco Bay Area. In August 2019, the Philippines Today merged with the Philippine News and is now called the Philippine News Today. I won the 2013, 2015, 2016 and 2018 Sigma Delta Chi award for editorial cartooning for newspapers with a circulation under 100,000. I have also won the 2016 Robert F. Kennedy Book and Journalism Award for Editorial Cartoons. I won first prize for the Best of the West editorial cartooning contest in 2016 and third prize in 2017. I am a member of the Society of Children's Book Writers and Illustrators, the Association of American Editorial Cartoonists and the Sunnyvale Art Club.
View more from Angelo Lopez Illustration