Post from PlantedPlaces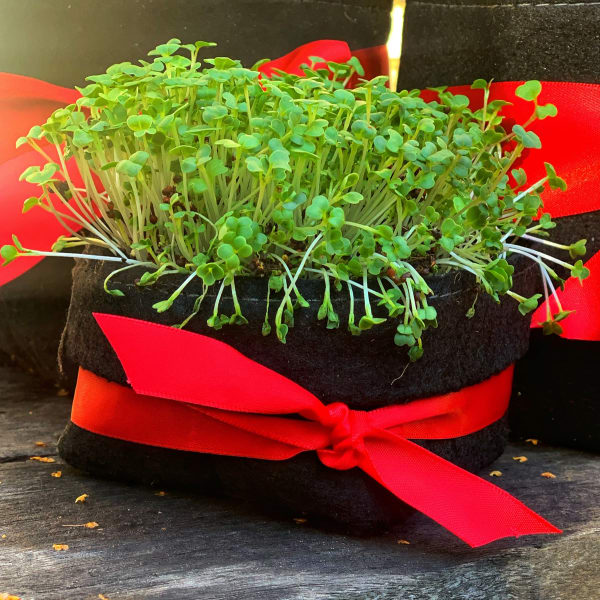 A Year of Microgreens. Super Easy to Grow—Harvest in 2 Weeks! Need a gift for someone who digs healthy eating? Give them 12 months of microgreens—all in one box. Microgreens are some of the most nutritious and easiest-to-grow plants. They thrive indoors on countertops and windowsills, meaning you can grow them year-round, even in cold climates. So, what are microgreens exactly? They're vegetable seedlings in their first stage of growth, in other words, plant babies. Microgreens have mega benefits: *Up to 40x more nutritious than mature plants. *Rich sources of vitamins C, E, and beta-carotene. *Low in oxalates, which are natural compounds present in many foods. A diet high in oxalates can negatively affect the body. Your shipment Includes: *12 packs of microgreen seeds; one for every month of the year. *Premium felt grow pot *Proprietary organic soil *Detailed instructions for planting, caring for, and harvesting your microgreens *A Year of Microgreens is also part of our Buy One, Get One 30% off Holiday Special!* Enter code HOLIDAY30 at checkout.
Buy Product
Inquire More
---
About PlantedPlaces
Hey - I'm Christy! And I am on a mission to help people live their healthiest life possible. The bottom line is that growing food in living soil at home is better for you than buying produce at the grocery store and I am on a mission to show people how easy and rewarding it can be. A couple of years ago I had my own health issues which forced me to take a closer look at what I was putting in my body. I learned that the faster way to a healthier gut was to eat more leafy greens, and not all leafy greens were created equal. I figured the best way to get the most nutrition out of my food was to grow as much of it as possible! That was my ah-ha moment -- and viola, The Planted Wall was born. We began our mission to create a system that would make it easy for everyone to grow food at home and get the full nutrition from their food! The Planted Membership is an easy way to get started growing your own food. Think of it as training wheels for the Planted Wall. There are a million reasons to join, but your very own health and the health of your family should rank right up there at the top!
View more from PlantedPlaces