Post from Floravita Painted Chandeliers and Art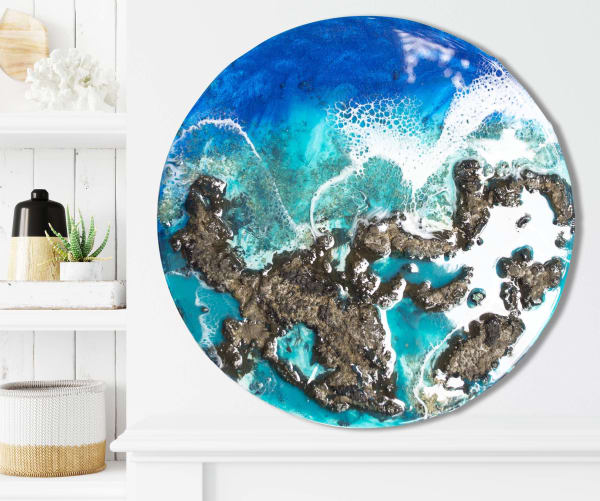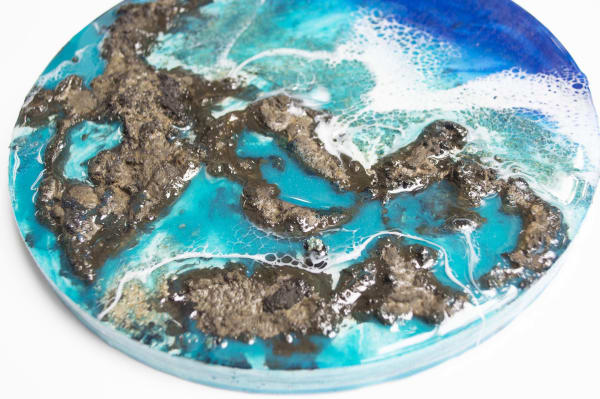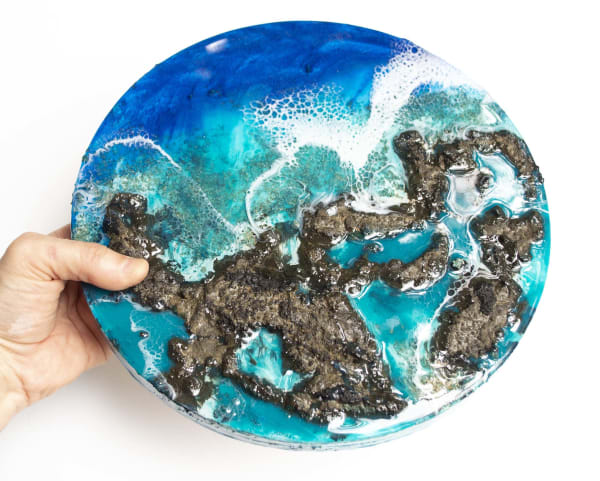 Queens Bath is an original mixed-media work of art for your wall. The size is 10 inches diameter. Easy to give as a gift to those who love the ocean. Affordable and beautiful island art. From the Contemporary Oceans and Tide Pools Collection. Created by Artist Jenny Floravita. One-of-a-kind...when this piece sells, it's gone. FREE Shipping in USA. Queens Bath incorporates sculpted Hawaiian lava rock, acrylic and art quality epoxy. This mixed media painting is beautiful in person. The colors are very rich. Do you need an inspiring work of art to create tranquility in a small space? This piece will be soothing. Inspired by travels through the Hawaiian Islands. This smaller, modern work of art will bring warm memories of a sandy secluded beach from your favorite trip. This contemporary work of art has beautiful 3-dimensional texture and beautiful deep ocean water with tide pools. Ready to hang on your wall. No framing is necessary. Created on Wood Board Size is 10 inches diameter by .75 inches deep Ready to hang on a wall Made in the USA FREE Shipping in USA My art has been collected internationally and is loved by hundreds of people. My oil paintings of the Hawaiian Islands have sold to art collectors worldwide.
Buy Product
Inquire More
---
About Floravita Painted Chandeliers and Art
Breathtakingly Beautiful Reverse Hand Painted Glass Chandeliers & Original Art, Home Decor & Gifts Inspired by the Hawaiian Islands by Jenny Floravita. Jenny Floravita's studio is in the greater San Francisco Bay Area. Studio Visits by appointment. I was born to be an artist. I was born to bring beauty into the world. A Jenny Floravita Painted Glass Chandelier has the power to Transform a room with beautiful, artistic lighting. Lighting that is one-of-a-kind. And the pairing of an oil or watercolor painting will bring the spirit of a warm island summer day to your wall…and your life. I didn't realize it all those years ago, that by splashing color onto paper that smelled like wet dog that I actually held my mission in my hands, in the form of a brush. Ever since that moment, I have made my life an expression of beauty and light. Before that moment with watercolor, I did not realize that I was sent as a steward of beautiful creation. But even smelling that wet dog smell and splashing those colors on watercolor paper, I knew deep down it resonated in my soul…that I was born to bring beauty, warmth and nostalgia to the lives of others. Are you looking to transform a room? Are you looking to be reminded of fond memories of windswept sandy beaches and gardens bursting with the blooms of summer and those memories still yet to come? If so, please view more of my work here on my website… We can then talk about the gallery of art that you imagine for Your home.
View more from Floravita Painted Chandeliers and Art