Post from 1066 Photographic Art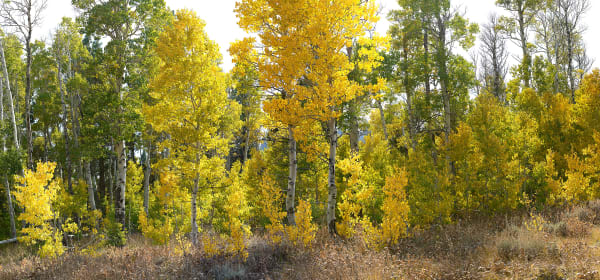 HOPE VALLEY ASPENS. Travel 25 miles or so south from Lake Tahoe, or traverse Carson Pass just beyond Kirkwood and you'll arrive in Hope Valley. The valley, a large High Sierra meadow is ringed by groves of aspens. Beautiful anytime of year, in Fall the groves come alive with vibrant taxicab yellow leaves. Droves of local leaf peepers can create "leaf jams" along roads and highways in peak season. In larger groves not all trees turn color at the same rate. It's common to see some trees still clothed in summer green, while nearby neighbors sport shades from bright yellow to darker orange. And finally, there are those which having lost all foliage, stand white-trunked against the background. The panorama above captures all these stages of aspens' Fall colors. It measures 16x40" and is composed of 45 individual frames. As such, it's printable in much larger sizes if you wish. It is borderless mounted on 1/4" hardboard with 1/2" standoffs that keep it away from your wall creating a pleasing shadow behind the print on all sides. Saturday mornings visit my gallery booth at the Farmers Market in Foster City and Sunday mornings in Cupertino from 9:00 to 1:00. I display a variety of landscape and studio prints like the one above. Typically you can take your selection home with you right from my booth. Visit my website gallery to see both landscape and studio prints and where you can contact me to discuss alternative print sizes, mounting options, and pricing.
Buy Product
Inquire More
---
About 1066 Photographic Art
I enjoy taking pictures and creating prints of beautiful landscapes, mostly in California, Oregon and Washington. I also enjoy studio work where just about any subject is fair game. The challenge in capturing landscape and studio images is to do the subject justice, to draw the viewer into the print and see the subject in a new and rewarding way. Photography and print creating go hand-in-hand and are a rewarding journey of discovery and constant learning. Join me, enjoy my work. I often display my work at Bay Area Farmers Markets, check my Whim page for current location.
View more from 1066 Photographic Art