Post from Designs by Masako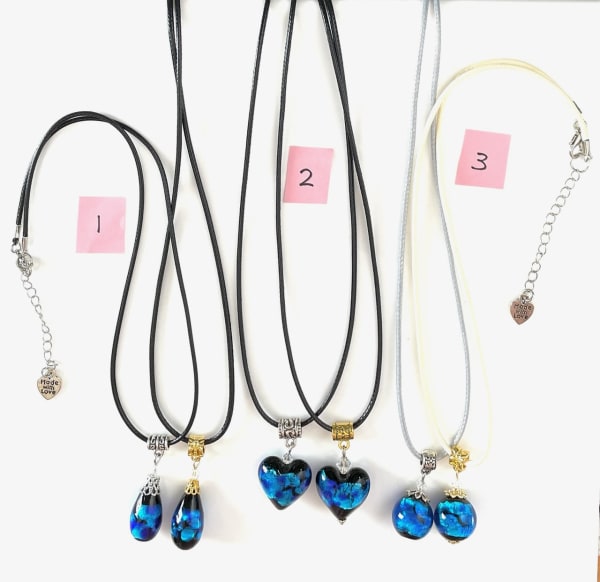 Foster City Holiday Special – Sales taxes are on us! All three pendants are made with a beautiful, deep blue hotaru-dama glass bead. Hotaru-Dama Glass Beads are handmade glass beads produced in Okinawa, Japan, therefore, each is unique & never the same. Hotaru-dama glass beads are made out of a combination of glass materials and silver, and the shiny part of the bead is from silver. Hotaru means firefly. Dama means ball. The firefly effect is created by the silver which is embedded within each bead. The hotaru-dama beads are known for their rich deep blue color. Each is with a simple 1.5 mm-thick black nylon-covered cotton cord. I offer three different color cords – black, off-white, and blue-gray. Also each pendant has silver or gold fixtures. When you order your pendant, please specify the bead style and fixture color. One end of the cord has a lobster clasp & the other cord end has a 2 inch-long adjuster (an extension). The end of the adjuster has a heart charm. This is a light weight jewelry that you love! The teardrop size is 23 mm x 13 mm. The heart size is about 20 mm x 20 mm. The diameter of the round ball bead is 16 mm. All of them have a clear Swarovski crystal on top of the hotaru-dama bead. Including shipping fees, each pendant is $48.
Inquire More
---
About Designs by Masako
Hello! I am Masako, the Designer & Owner of Designs by Masako When I design my jewelry, I look for beads and charms that offer quality and distinctiveness. Many of my pieces include Hotaru-dama, Tombo-dama and Tensha beads imported from Japan, which is known for its high-quality bead production. These rare and beautiful beads are all uniquely created by highly skilled Japanese glass artists. I am delighted to be able to introduce you to such rare treasures through my jewelry studio!
View more from Designs by Masako