Post from Miko Kami Spirit Dolls by Bahira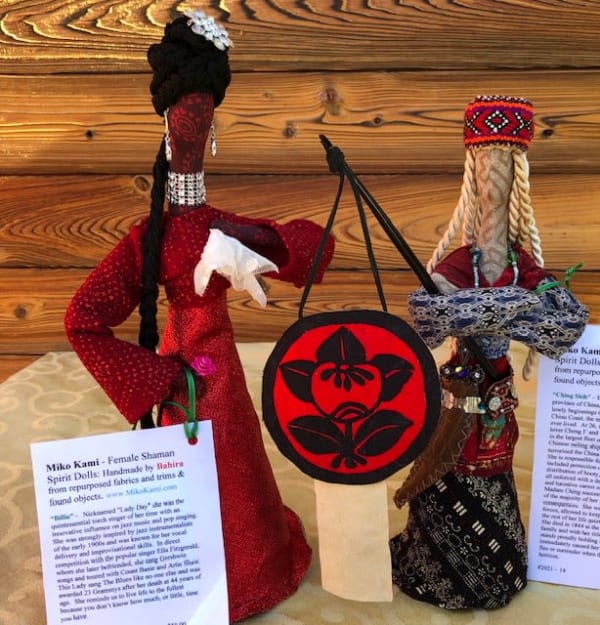 "Billie" (left) and "Ching Shih" (right). "Billie" - Nicknamed "Lady Day" she was the quintessential torch singer of her time with an innovative influence on jazz music and pop singing. She was strongly inspired by jazz instrumentalists of the early 1900s and was known for her vocal delivery and improvisational skills. In direct competition with the popular singer Ella Fitzgerald, whom she later befriended, she sang Gershwin songs and toured with Count Basie and Artie Shaw. This Lady sang The Blues like no one else and was awarded 23 Grammys after her death at 44 years of age. She reminds us to live life to the fullest because you don't know how much, or little, time you have. "Ching Shih" – Born in 1775 in the Guangdong province of China, Madame Ching (鄭氏) rose from lowly beginnings to being Pirate Queen of the South China Coast, the most famous female pirate that ever lived. At 26, she married her pirate captain lover Cheng I' and became 50-50 partners with him in the largest fleet of 1800+ junks (traditional Chinese sailing ships) called The Red Fleet which terrorized the China Seas during the Qing dynasty. She is responsible for a strict Code of Pirates that included protection of women captives and equal distribution of booty, among other stringent rules, all enforced with a deadly hand. After a thriving and lucrative career on the high seas, at age 35 Madam Ching successfully negotiated the surrender of the majority of her fleet and pirates with little consequences. She was pardoned by the imperial forces, allowed to keep her vast fortune and lived the rest of her life quietly as an opium smuggler. She died in 1844 at the age of 69 surrounded by her family and with her title of Pirate Queen intact. She stands proudly holding her Red Banner, which immediately caused her intended victims to either flee or surrender when they saw it appear on the horizon.
Buy Product
Inquire More
---
About Miko Kami Spirit Dolls by Bahira
I have always loved patterns, textures and colors...I dream in them often. As an artist I have a driving need to create and find hand work very satisfying. I was the choreographer and costume designer for a small local dance troupe and have found the transition from lifesized to miniature extremely gratifying. I intended to make my first Doll an African ethnic figurine, but it emerged looking more Japanese than African and I felt that the spirit of the Doll had found its way out through me. My second doll was also Asian in nature and I began researching Shinto spirituality beliefs eventually coming up with the concept of Miko Kami. Since then, I have let the beauty of the fabrics guide me in the making of these Miko Kami Dolls much in the way a Kachina doll maker captures the spirit of the Kachina. I have made Dolls from many ethnic, historic and fantasy realms, and as I create them I feel good thoughts and wishes flow into them through me. Once they are finished, a little research on the Internet helps me give them a name and create their unique personas and imagined story. I have found great joy in creating Miko Kami Dolls and am delighted to pass these figures on to those like myself who can feel their spirits and enjoy their individual beauty. No two are ever alike. I make my Miko Kami Dolls with great serenity and natural tranquility and have been told that on occasion, a Doll will spiritually reach out, "speak" and bond with her intended owner. Each figure is numbered, cataloged, signed on the bottom and sold as a one-of-a-kind affordable art piece. I have known FabMo since its inception over 10 years ago in Palo Alto, CA when Hannah Cranch opened her house monthly for the first redistribution of these repurposed materials. Since then, I have let the variety and beauty of these "rescued and repurposed" fabric samples, trims and tassels inspire me to make these Female Spirit Dolls.
View more from Miko Kami Spirit Dolls by Bahira