Post from Sew Well Said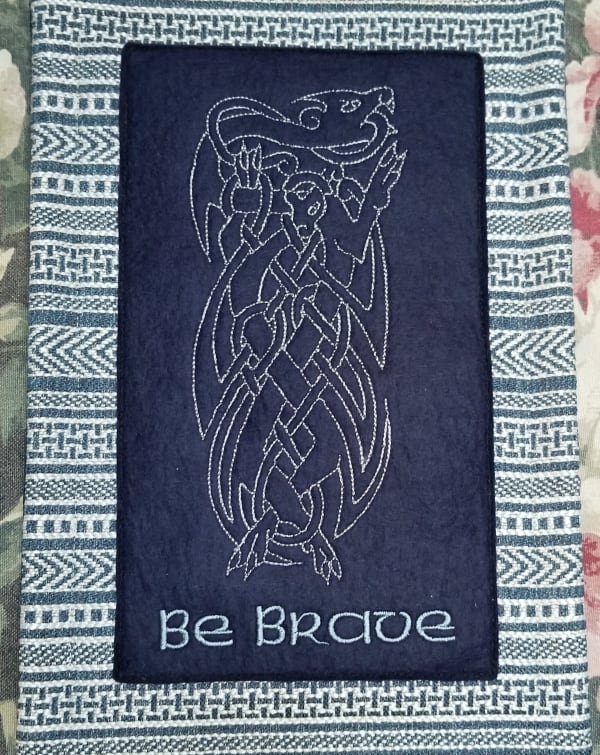 Be Brave Celtic Dragon Wall Hanging. The Celtic Dragon is a mighty mystical creature that represents power and wisdom. This embroidered dragon wall hanging reminds you to "Be Brave" in a Celtic font. For orders, please email.
Inquire More
---
About Sew Well Said
I grew up sewing many kinds of projects, and was lucky enough to have gone to a High School that offered Clothing classes where I was inspired by my teacher, and learned proper garment construction. Luckily, Purdue University, in my hometown of West Layette, Indiana, offered a Major in Apparel Technology. I was in my element in that program, and even had a campus job at the Theater's Costume Shop! After graduation, I moved to California, and although I didn't get a full-time creative job, I have always had some involvement in making things, or teaching others. After acquiring my embroidery machine about ten years ago, I decided to make and sell my creations through Etsy, and boutiques. FabMo fabrics are so perfect for Home Decor items, table runners, wall hangings, messenger bags, etc. Most of what I sell is one-of-a-kind, and I take custom requests for special occasion gifts. I'm so grateful that I've gotten most of my fabrics and other materials (like thread, tassels, buttons and trim) from FabMo for the past several years. The quality and beauty of the fabrics was what originally attracted my attention, but the fact that I am able to help keep materials out of the landfill by reusing them in my creations is what keeps me coming back to FabMo year after year. I'm proud to be part of such an environmentally-friendly and creative group of people.
View more from Sew Well Said