Post from Miko Kami Spirit Dolls by Bahira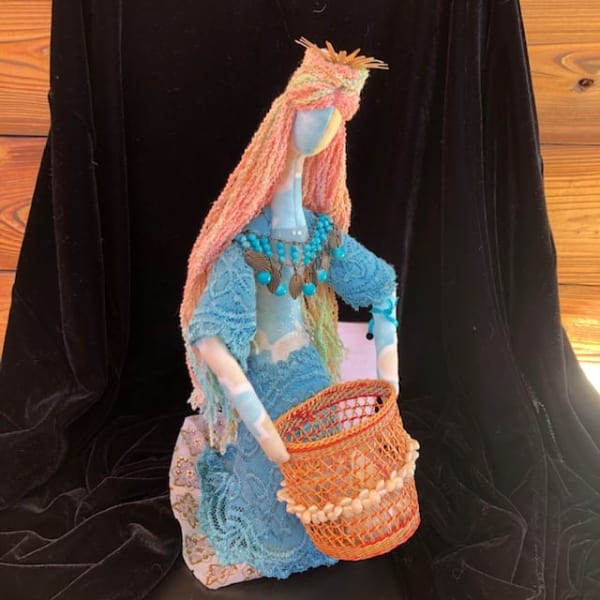 Aruba "Aruba" – She is named after one of the many islands that make up the Caribbean, first discovered and claimed by the Spanish in 1499. She is the joyful Spirit of the sunrise over snow-white beaches and aqua-blue waters of the Sea. The light from her sun-crown shines down, illuminating colorful seashells washed up onto the shore. Walking through the lapping waves and seafoam, she gathers these ocean jewels in her wicker basket and she will take them high above the tide line for beachcombers to find and enjoy as gifts from the sea. Aruba reminds us to find serenity in the gentle quiet of the morning and to thank the sun each day for its warming light.
Buy Product
Inquire More
---
About Miko Kami Spirit Dolls by Bahira
I have always loved patterns, textures and colors...I dream in them often. As an artist I have a driving need to create and find hand work very satisfying. I was the choreographer and costume designer for a small local dance troupe and have found the transition from lifesized to miniature extremely gratifying. I intended to make my first Doll an African ethnic figurine, but it emerged looking more Japanese than African and I felt that the spirit of the Doll had found its way out through me. My second doll was also Asian in nature and I began researching Shinto spirituality beliefs eventually coming up with the concept of Miko Kami. Since then, I have let the beauty of the fabrics guide me in the making of these Miko Kami Dolls much in the way a Kachina doll maker captures the spirit of the Kachina. I have made Dolls from many ethnic, historic and fantasy realms, and as I create them I feel good thoughts and wishes flow into them through me. Once they are finished, a little research on the Internet helps me give them a name and create their unique personas and imagined story. I have found great joy in creating Miko Kami Dolls and am delighted to pass these figures on to those like myself who can feel their spirits and enjoy their individual beauty. No two are ever alike. I make my Miko Kami Dolls with great serenity and natural tranquility and have been told that on occasion, a Doll will spiritually reach out, "speak" and bond with her intended owner. Each figure is numbered, cataloged, signed on the bottom and sold as a one-of-a-kind affordable art piece. I have known FabMo since its inception over 10 years ago in Palo Alto, CA when Hannah Cranch opened her house monthly for the first redistribution of these repurposed materials. Since then, I have let the variety and beauty of these "rescued and repurposed" fabric samples, trims and tassels inspire me to make these Female Spirit Dolls.
View more from Miko Kami Spirit Dolls by Bahira