Post from Curmudgeon Cards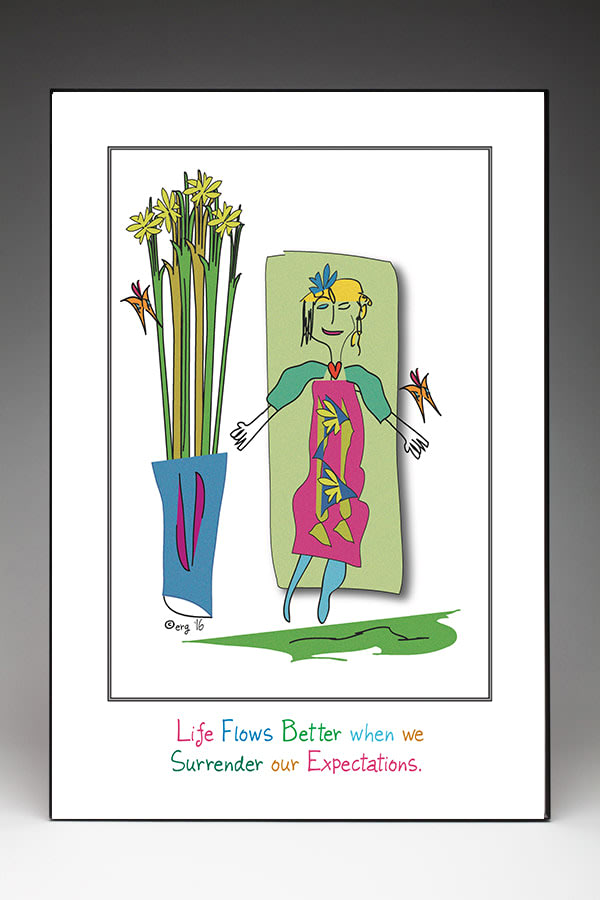 Sullivan - Surrender Your Expectations. This is a digital illustration and comes unframed as a greeting card, 8x10 or 13x19 Posters.
Buy Product
Inquire More
---
About Curmudgeon Cards
I started to create my signature handmade art cards back in 2000 using postage stamps from around the world and decorative papers. My previous business partner was now running her daughter's clothing company and suggested I come down to the showroom to go through remnants they were no longer using. There were beautiful laces and fabrics from Italy - and when I started to incorporate them into my greeting cards as background collage, my artistic presentation went from 0 - 60 in style and elegance. The fabrics really brought the WOW factor. I am known for my color matching and how I show different textures and patterns to enhance the art on the stamp. Since then, I have been designing specialty art cards for museum gift shops around the country. In 2008, I started illustrating and created a line of colorful, witty and whimsical encouragement cards which use the metaphor of sight to shift your perspective when faced with unexpected challenges. I've authored three books using my illustrations: "Life's Too Short to Spend with Assholes," Life's Too Short NOT to Get Your Ass Out of Bed and Go to Yoga," and "AWESOME: Fierce, Feisty & Fabulous - Women Game-Changing the World." Prior to this, I was a casting director for movies and television for twenty years. A jewelry designer from an art show told me about FabMo about 4 years ago. Since I live in Los Angeles, it's not easy for me to get up to the Bay Area - but I'm always happy when an art show falls on the same weekend as their monthly fabric selection. For me, textiles are addicting and I love materials that are nubby, unravel or are interestingly textured. Colored Linens make my heart sing! Honestly, my palms sweat when I know I am going to be taking home hundreds of pieces of new inspiration. I'm known for my color matching in my collage cards - and I love to have interesting textures which make my cards into Works of ART on Paper.
View more from Curmudgeon Cards