Post from Vintage Wicker Haus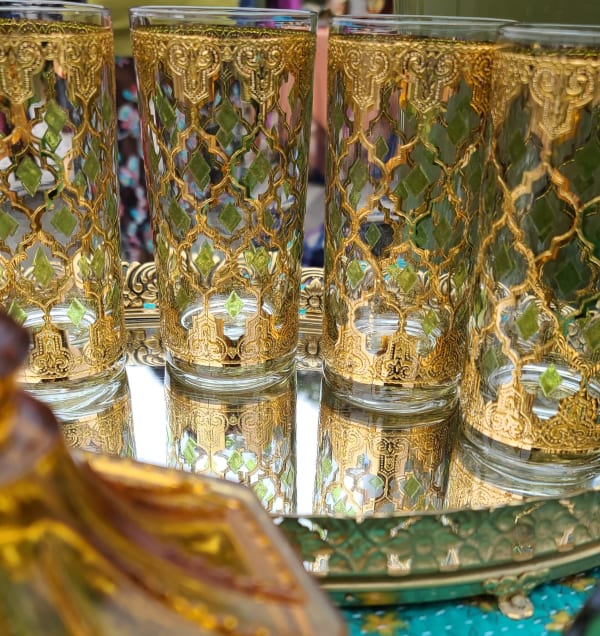 Set of 4 Vintage Bright Green & Gold Valencia Culver High Ball Glasses/Vintage Culver Green Diamond High Ball Glasses/Culver Glasses Dimensions 5 1/2"H x 2 3/4"Diameter 16 fluid ounce This set of 4 Valencia Culver Glasses are so incredibly beautiful with their shiny 22 kt gold accents, bright green diamond shapes and their heavy weight base. They are in excellent vintage condition. Markings: Culver NORMAL VINTAGE/USED WEAR ~ This means there could be worn glazes, paints, woods, fabrics or metals. Any major wear, tear or visible imperfections will always be noted.
Buy Product
Inquire More
---
About Vintage Wicker Haus
Vintage Wicker Haus bloomed in San Jose, CA fueled by our love for thrifting - a hobby turned into passion with a simple philosophy: Live in moments that matter. Items in our Haus are unique, eclectic, vintage & vintage-inspired. Fervently sourced + curated from the Bay Area, each piece is pre-loved, looking for new spaces where they can be re-loved. We believe that our space is all about personal expression & our Haus was built with this belief in mind, offering upcycled home décor that fit your unique style. Because of this, we only carry one of each item, which makes everything in our Haus that much more special. Contemporary, classic, or classic farmhouse, mid-century modern (MCM), boho eclectic, shabby chic or if you're just looking for a seasonal update, we promise you'll find the perfect piece(s) to create a special space to enjoy for a lifetime. Welcome to our Haus; make yourself at home. We are happy to have you here.
View more from Vintage Wicker Haus