Shop Local & Support San Francisco Based Small Businesses with Our Holiday 2021 Gift Guide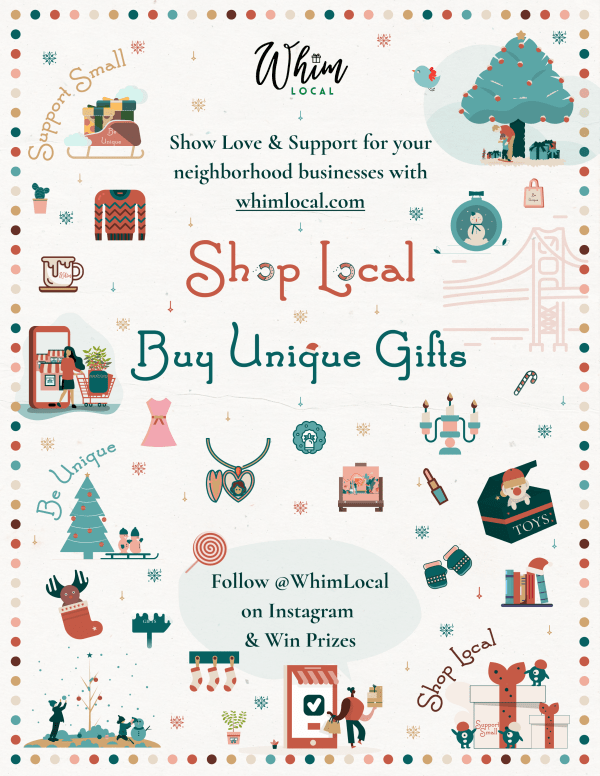 Local businesses carry one-of-a-kind unique selection and as we approach the gift-giving season, let's remember our awesome local businesses first! Our gift guide can assure you to have the most unique gift for Christmas, Hanukkah and the Holidays!
We've curated this list of must-have gifts from your neighborhood local retailers and artists. These gifts are available locally, not stuck in a container to make your holiday shopping beneficial for both you, your recipients and small businesses in the San Francisco Bay Area.
Thank you for shopping locally. Your decision to shop local will enrich your neighborhood and your community!
Home Decor, Living & Entertainment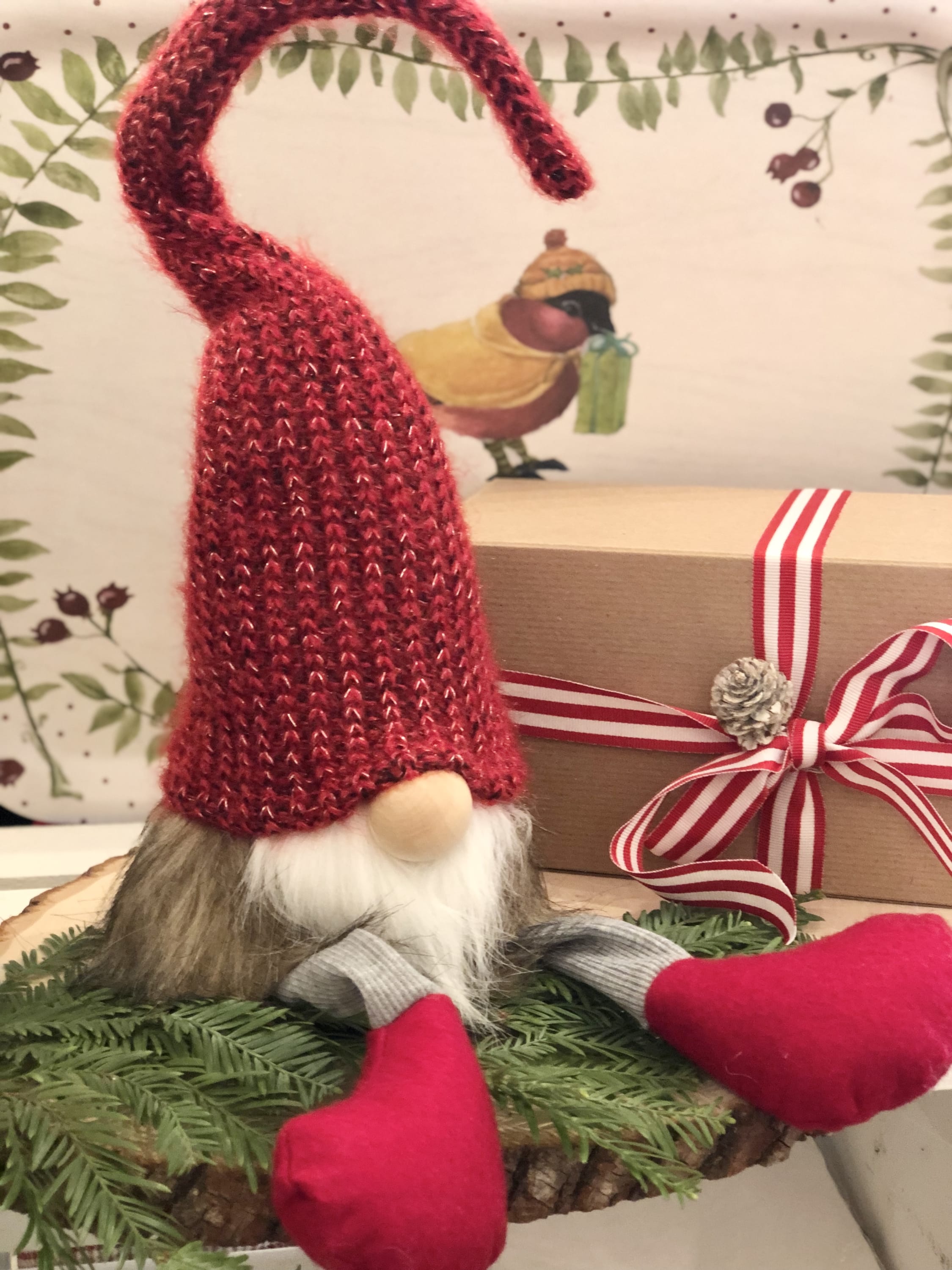 This adorable tomte (gnome) sitting atop a rustic Christmas tree stump base will bring cheer and warmth through frosty winter days. Festive and so much fun, this centerpiece is an absolute conversation piece.
Buy Here: Nordic Nest, San Carlos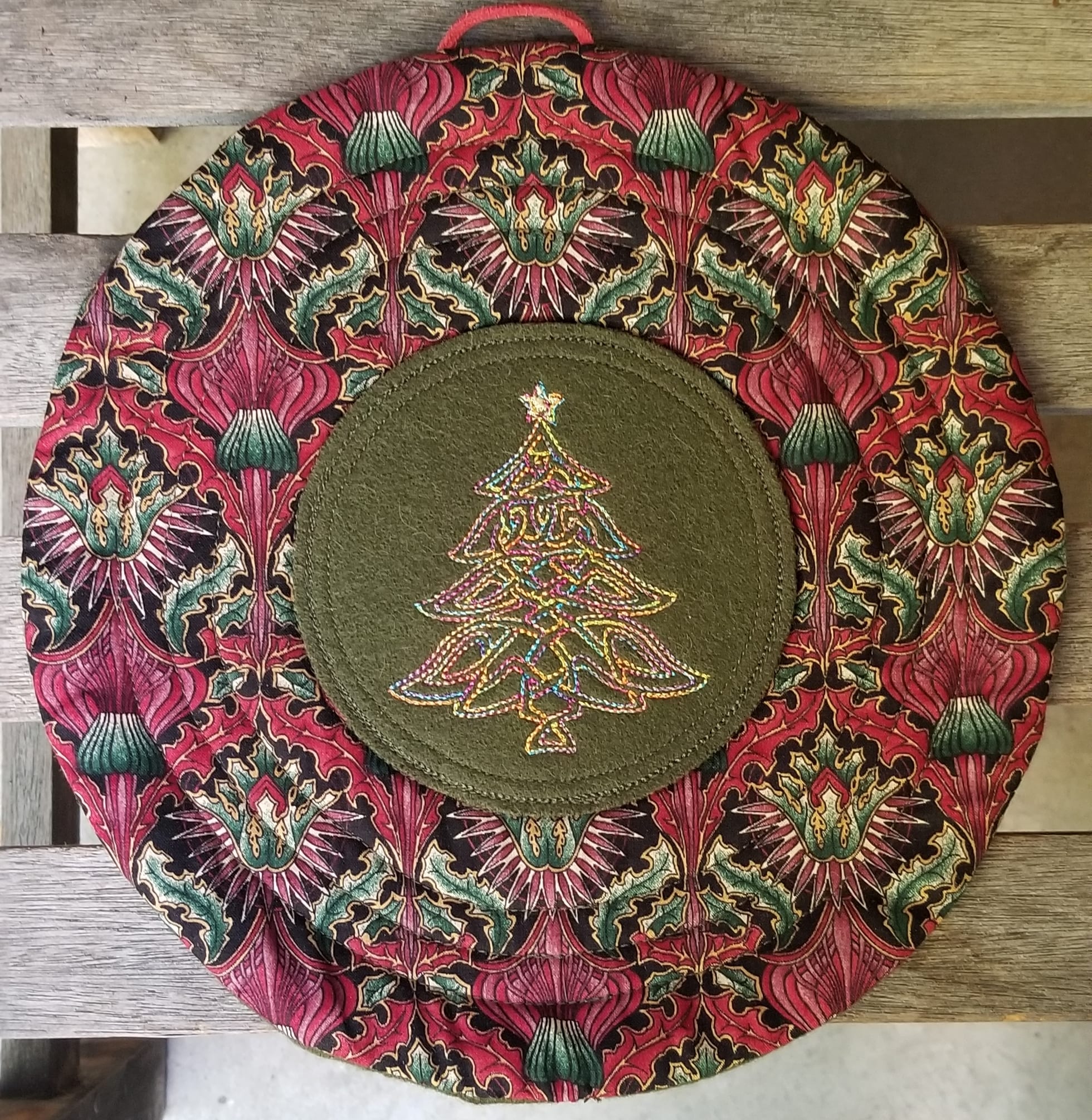 The sweet, embroidered celtic knot Christmas tree works double duty during the holiday season. Reversible and repurposed, you can hang it on a wall or use it as a trivet for a pot of steaming hot stew.
Buy Here: SewWellSaid, Cupertino
Would you like to ride in this beautiful balloon? Fascinating and realistic, the Royal Aero Air Balloon is perfect for the appreciator of details. Painstaking features include wooden toggles, sandbags, along with hand-applied balloon strips, hand-woven netting, and a basket. Display it at home or the office for a dreamy effect, and let it float away with your imagination.
Hiller Aviation Museum Gift Shop, San Carlos
Bring the splendor of nature into your home with Artist Alain's Birch Trees in Yosemite National Park. An image of the original watercolor painting is displayed on a handcrafted, wooden tray.
Alain Art Paintings, Mountain View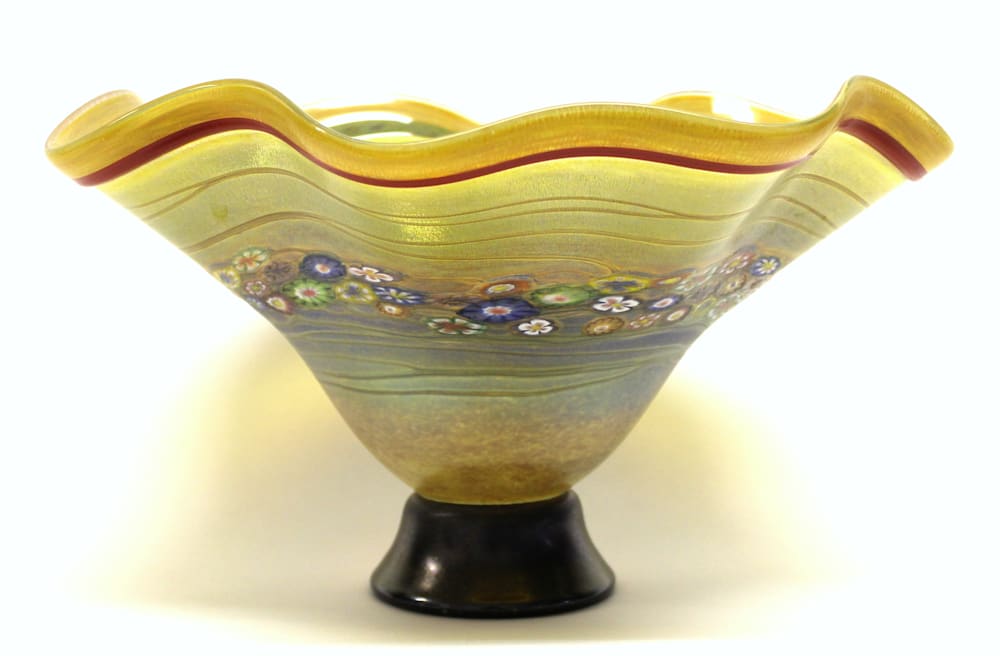 Ken and Ingrid Hanson's one-of-a-kind hand blown glass sculptures will blow your mind! Marvel at the gorgeous ripple effect and hand-formed floral millefiori that flow throughout.
Hanson and Kastles Art Glass, San Carlos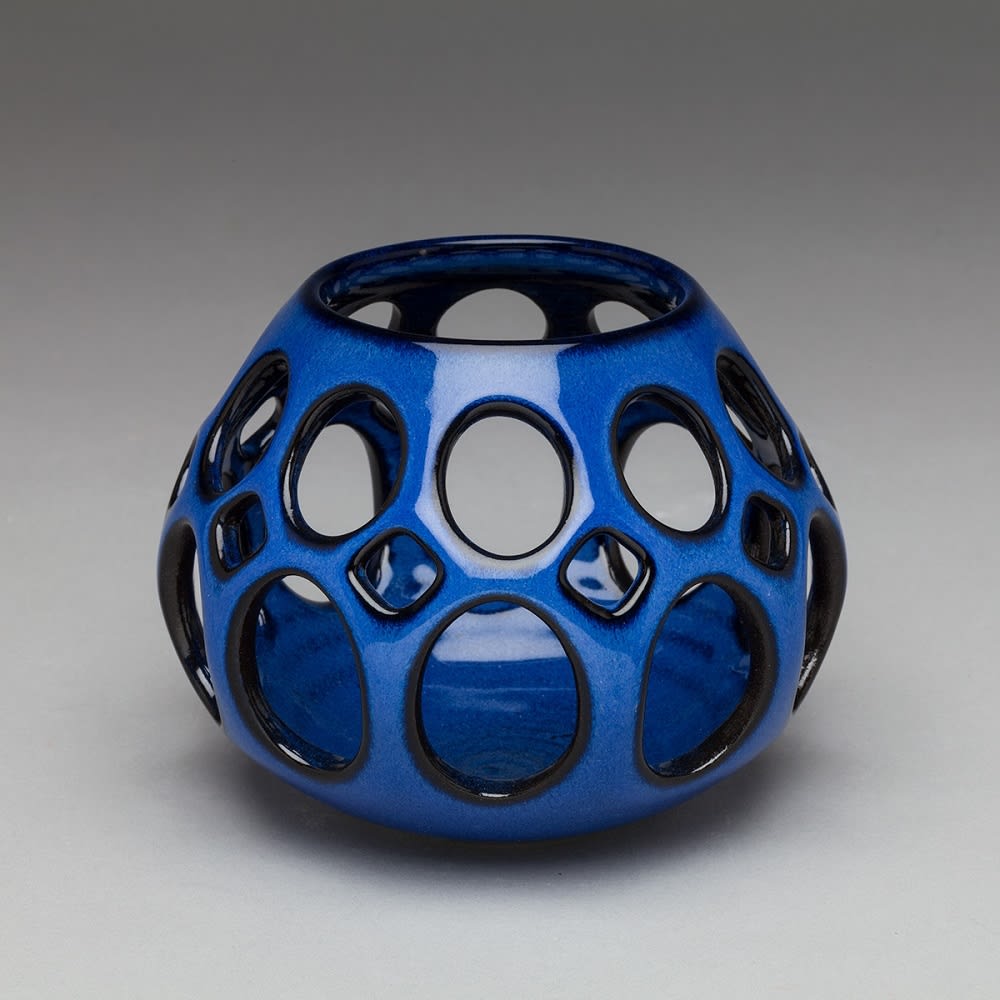 Gem-like with a mid century modern design, this vibrant tealight holder creates stunning patterns of light and shadow. Light it up as a centerpiece on the dinner table or illuminate the night outdoors.
Buy Here: Lynne Meade, Oakland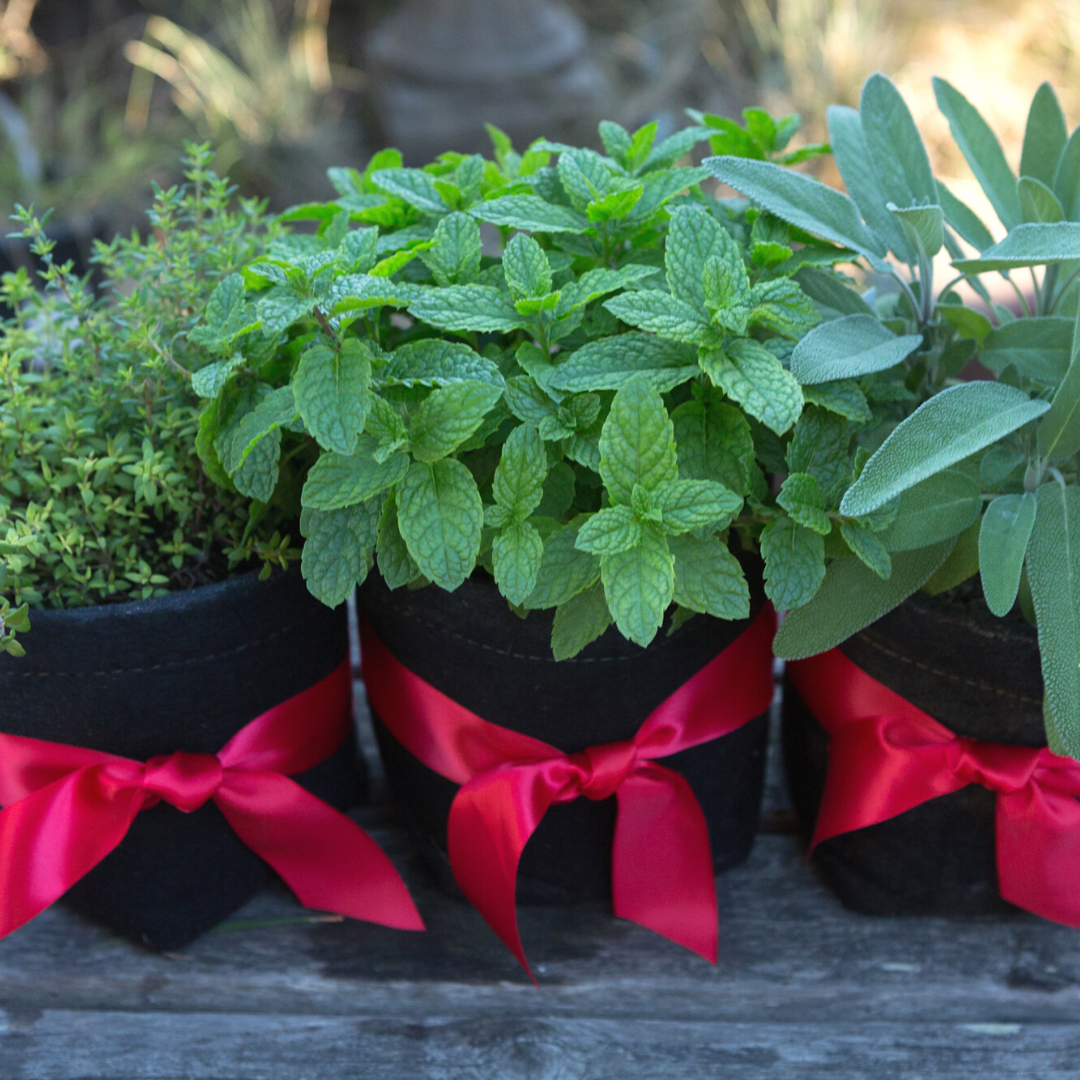 For the foodie who loves cooking with fresh herbs. No green thumb required! The kit includes organically grown herbs (mint, thyme, and oregano) and everything you need to grow year-round.
Buy Here: Planted Places, Los Gatos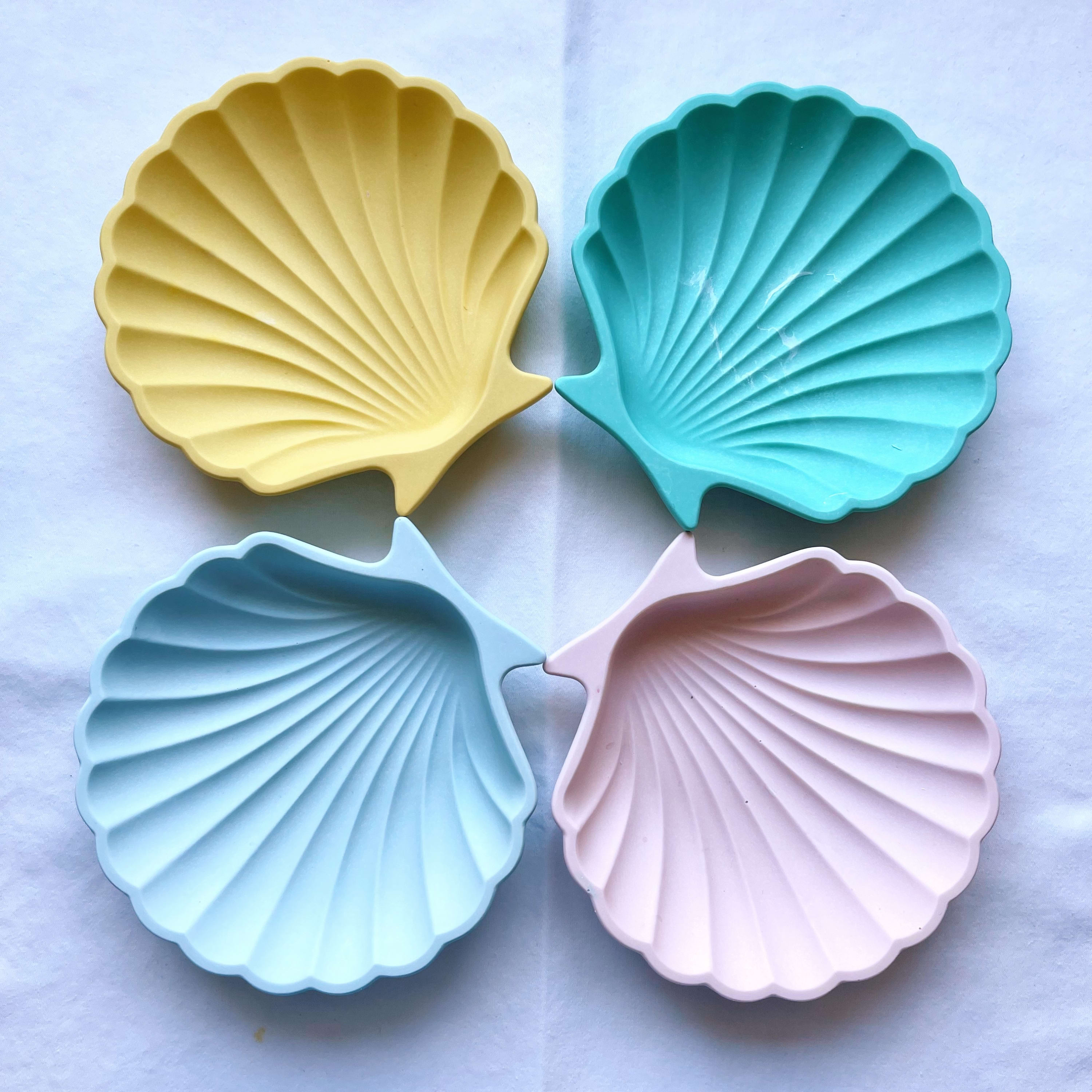 Selah sells seashells on the seashore. Made of Jesmonite, these adorable handmade seashell trinket trays are lovely in function and form. Warning: One tray may not be enough. You'll want to collect them all!
Buy Here: Selah Handmade, Redwood City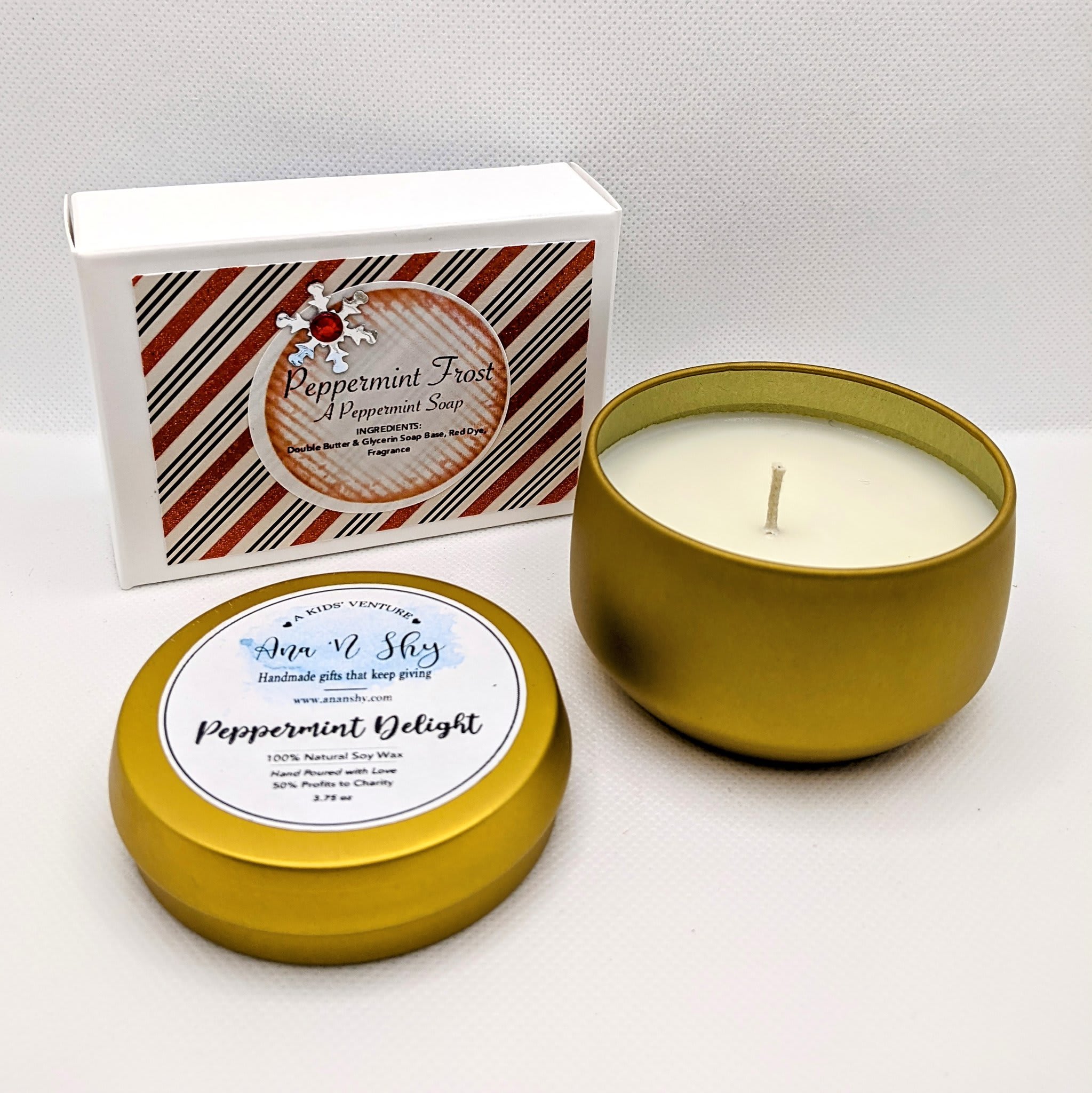 Two entrepreneurial sisters capture the essence of the holidays in these festive 100% soy candles. The mouthwatering scents are available in their spicy/fruity Sparkle 'N Shine, refreshing Peppermint Delight, and cozy Warm Vanilla Sugar.
Buy Here: Ana 'N Shy, Foster City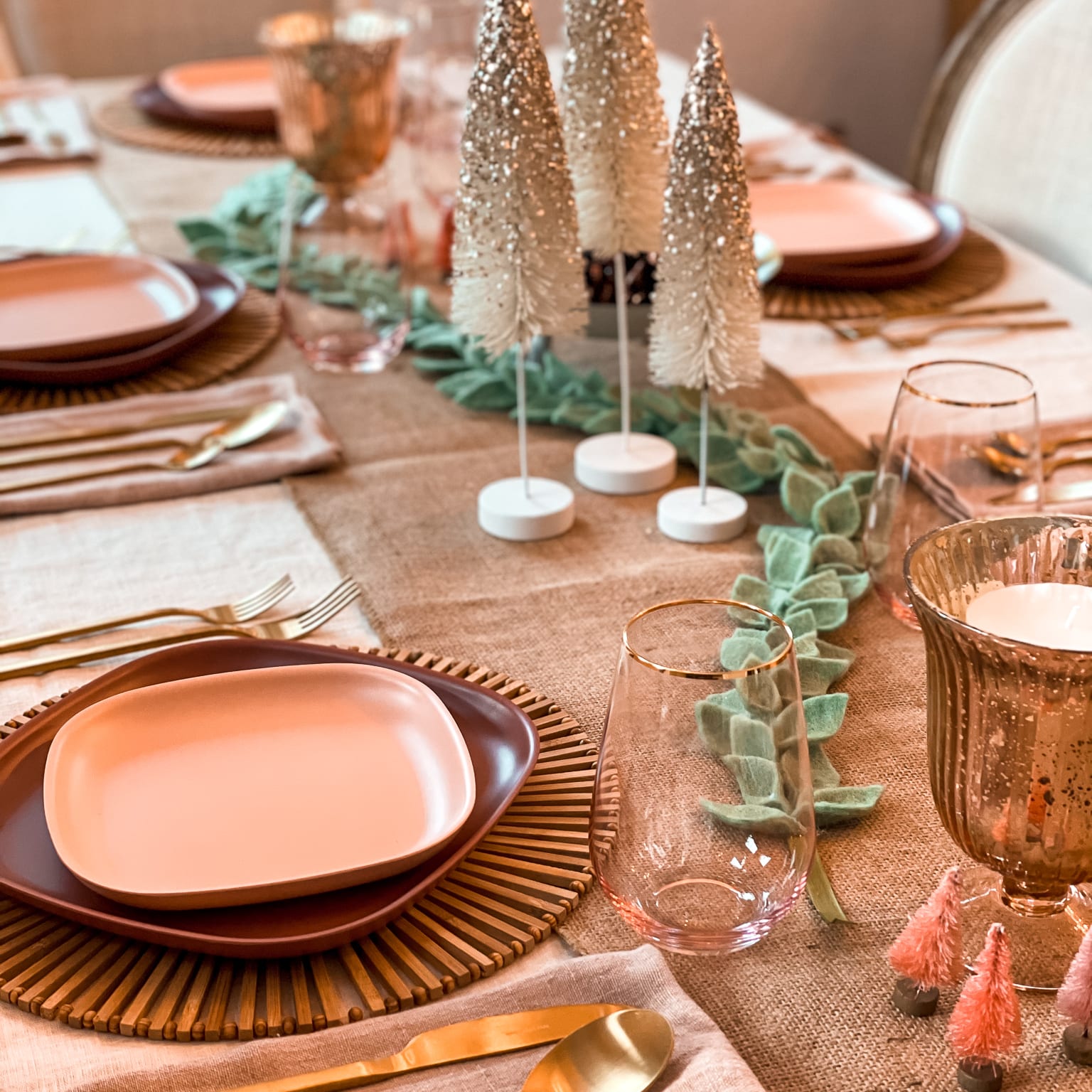 Throwing a holiday party? Don't stress about decorating the table - our friends at Party On Party Box got you covered. The winter wonderland party rental sets up in 15 minutes which allows you to focus on the important stuff - friends, family and food!
Buy Here: Party On Party Box, Santa Cruz
Clothing, Jewelry & Accessories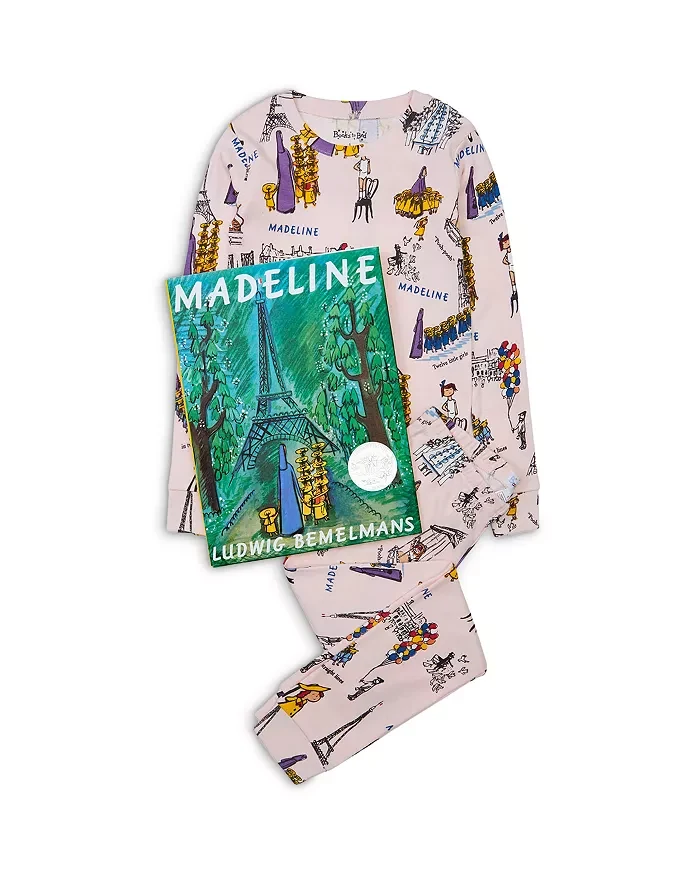 Give the gift of holiday bedtime traditions with the "Madeline" and "Eloise" book and pajama set. Your little readers can follow the adventures of Madeline and Eloise while wearing matching themed pajamas.
Buy Here: The Kids Company, San Carlos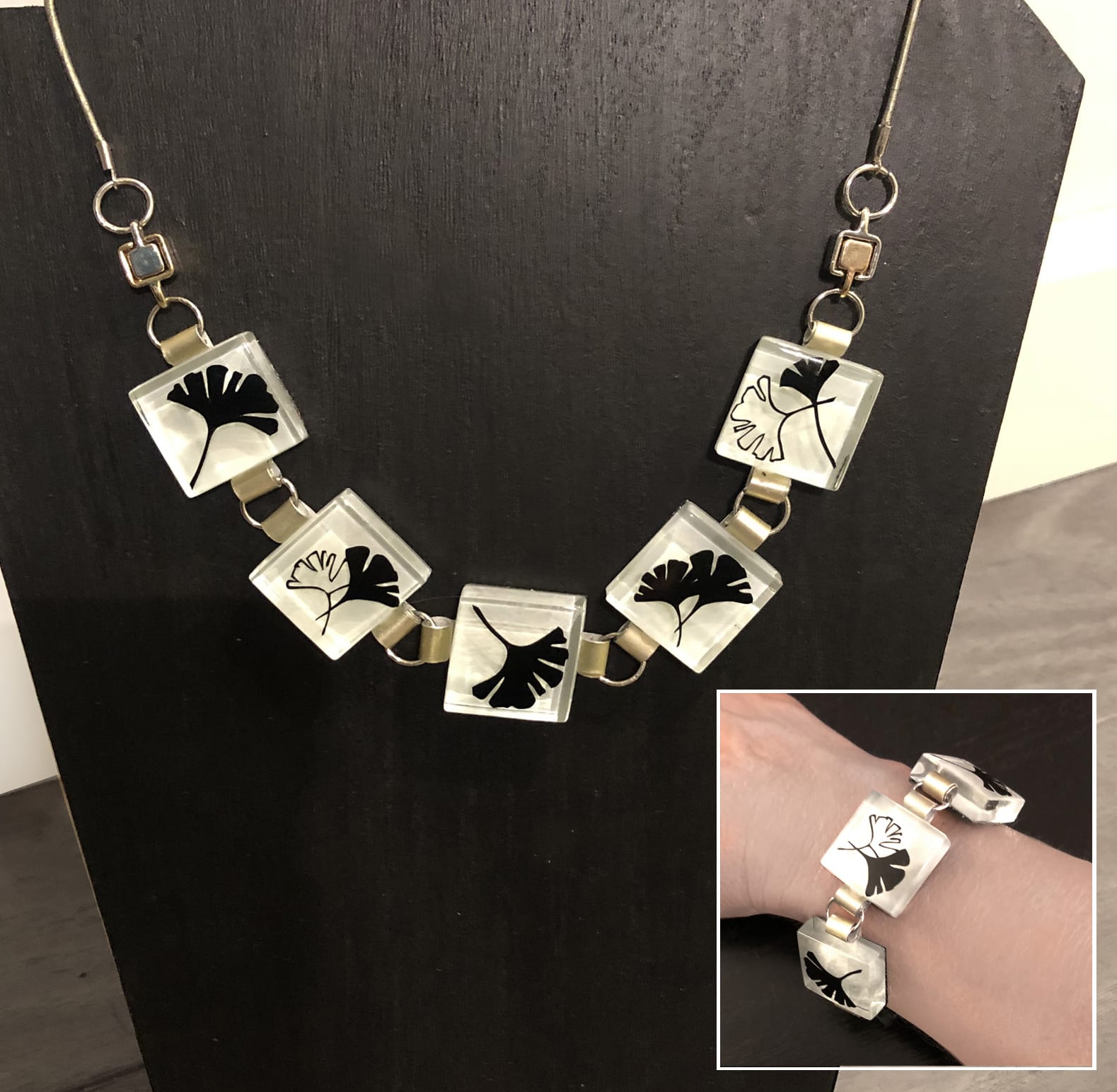 You get 2 eye-catching looks in one piece with these mesmerizing convertible necklaces. The upcycled glass tiles display geometric or floral motifs.
Buy Here: Yellow Rose, Mountain View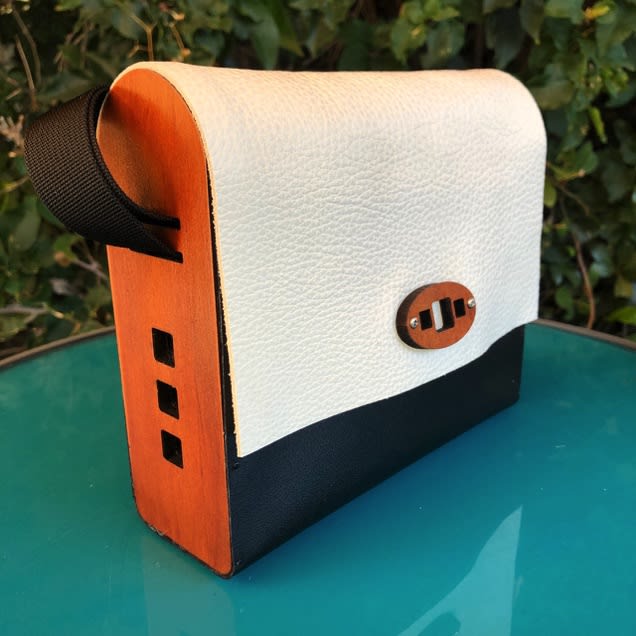 Eye-catching, versatile, and unique, this laser cut wood and leather purse is handcrafted with 100% upcycled materials. Parade the delicate details of the embossed, painted, and stitched leather. Make it all your own with your choice of laser cut wood styles and color combos. By adjusting the woven strap, this lightweight beauty can be worn as a crossbody or shoulder bag.
Buy Here: Yellow Rose, Mountain View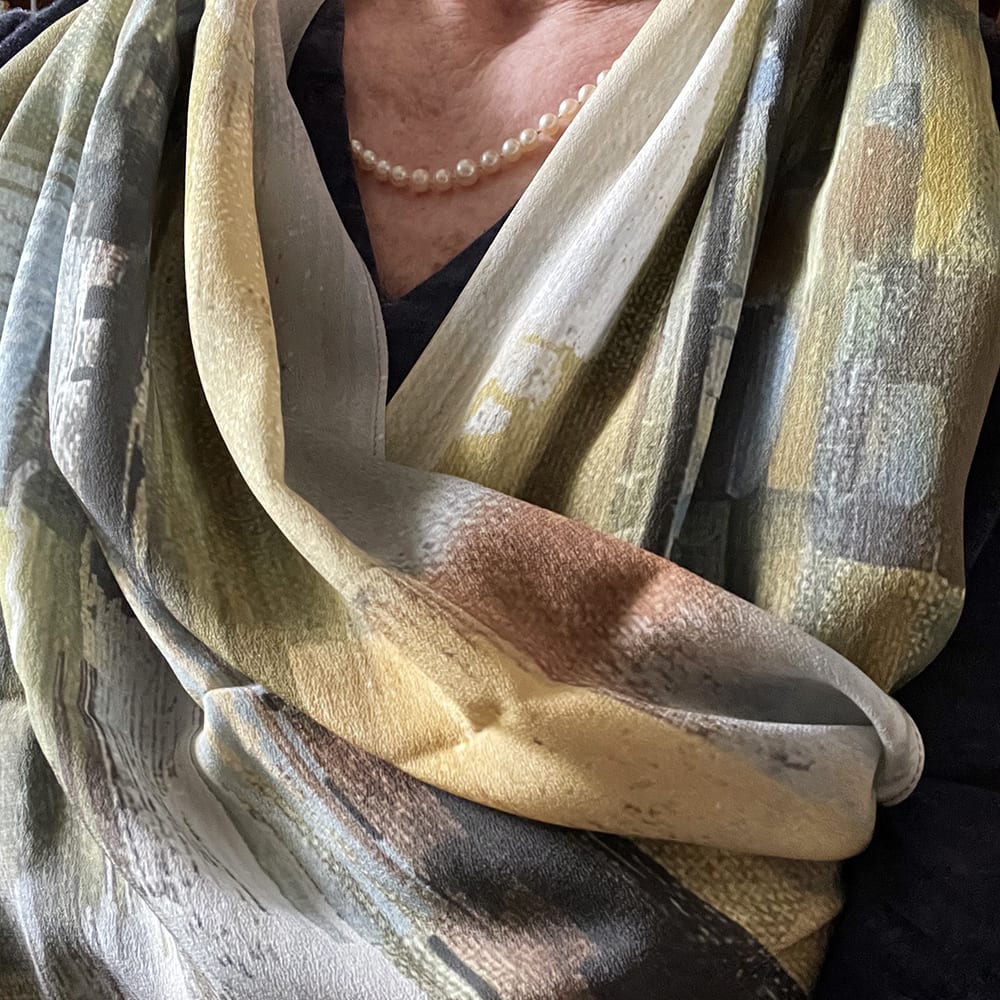 100% silk crepe de chine, 100% beautiful. With rich tones of gold, peach, green, and grey, the scarf's design is from Artist Ann Miller's abstract painting "Yellow Mirage". Drapes beautifully over the shoulders or around the neck.
Buy Here: Ann Miller Art, San Mateo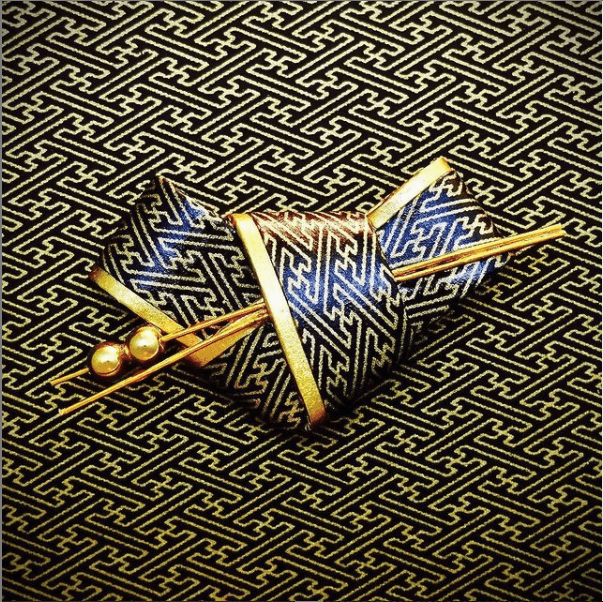 This origami hair accessory is luxurious and regal. Handcrafted by artist Bernadette Chenard, the origami piece is unique art that you can wear. Prepare for compliments.
Buy Here: Komachi, Foster City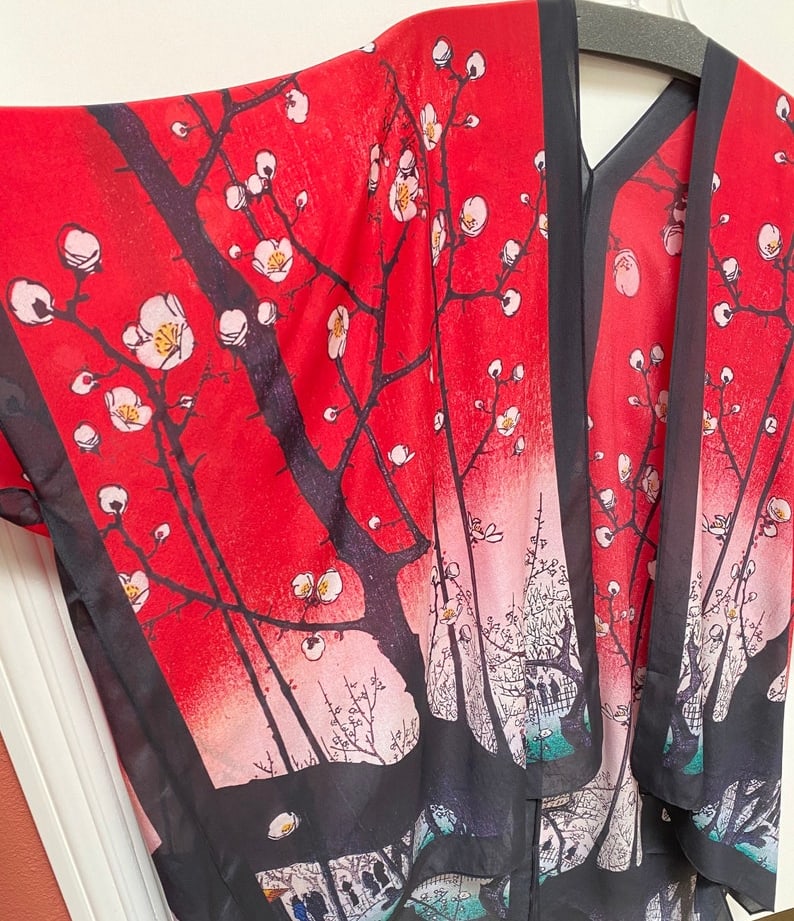 Dress it up or dress it down—because Santa Claus is coming to town! Be comfortable and stylish while amongst guests, or puttering around the house on a lazy weekend. Made of 100% silk, these silk kimonos are versatile and buttery soft.
Buy Here: Earthy Treasures, San Carlos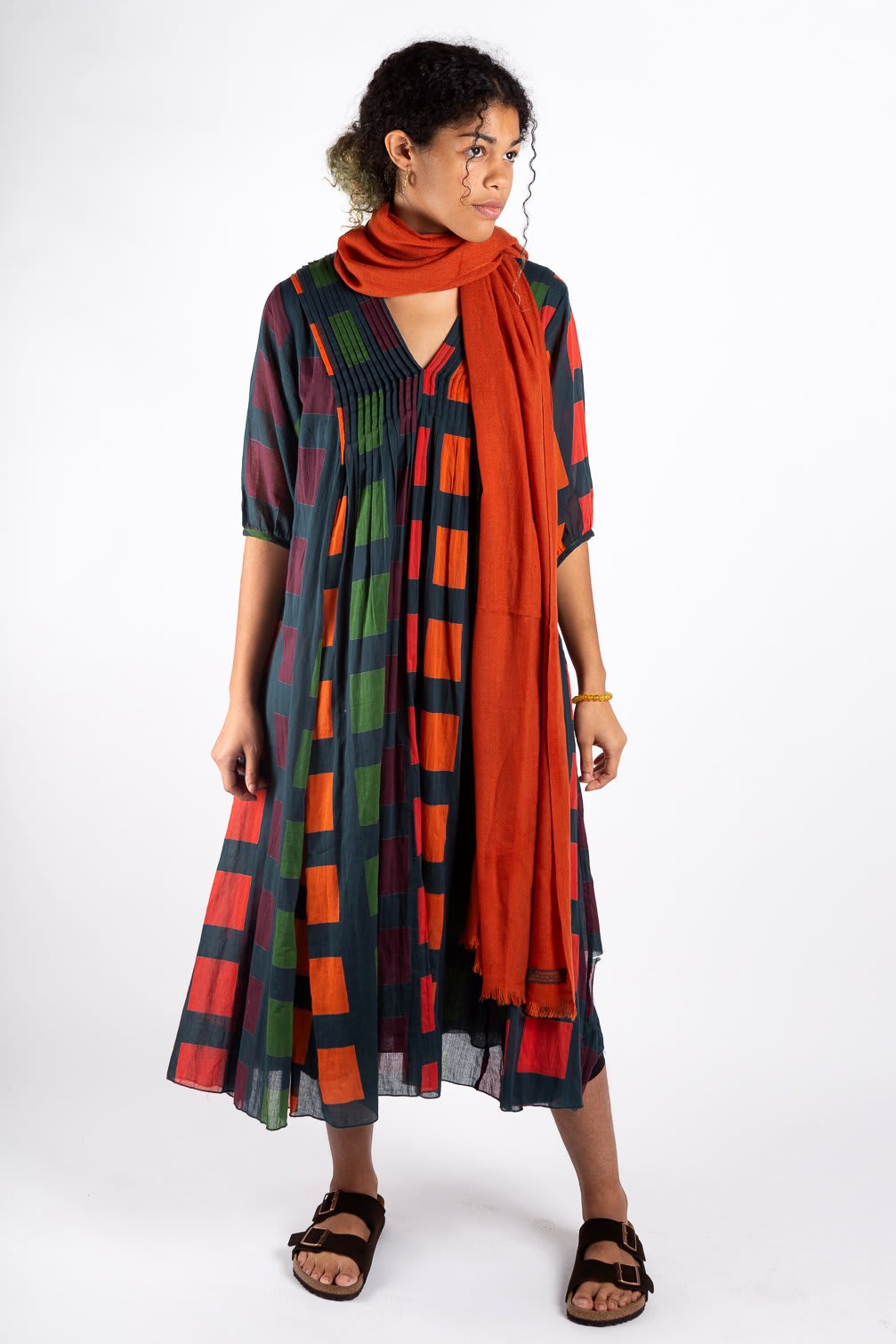 The vivid Skye Dress is not only adorable with its pintucked neckline and A-line shape, it's also oh-so comfortable. Bonus: This lightweight cotton dress has pockets!
Buy Here: Dolma, Menlo Park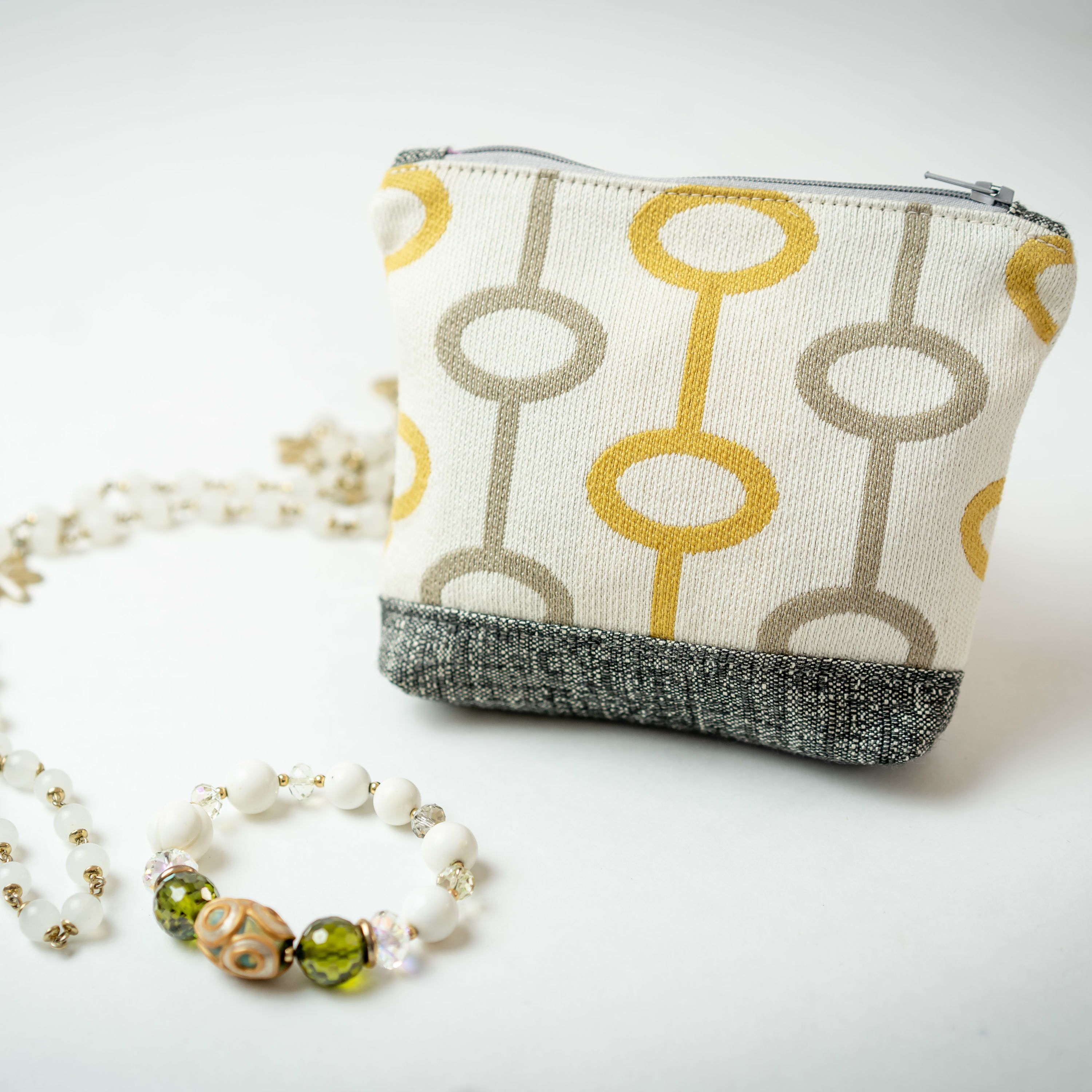 Organization and sustainability have never been so stylish! These unique designer zipper pouches are made from upcycled fabric.
Buy Here: Kati Andi, Los Altos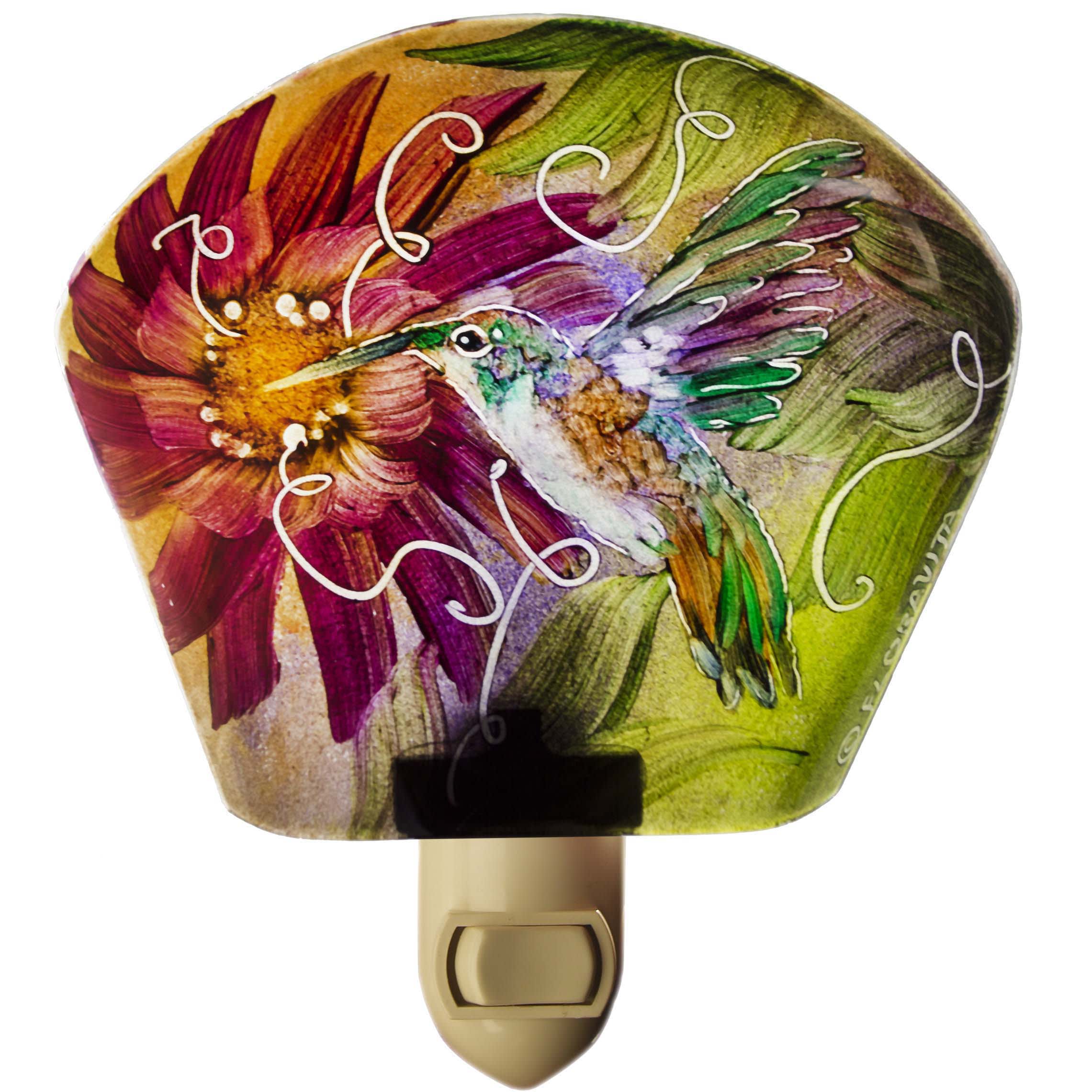 Got guests staying over for the holidays? Illuminate their room with the soft glow of the Flower and Hummingbird night light. The night light is painted and signed by artist Jenny Floravita.
Buy Here: Floravita's Painted Chandeliers & Island Art, Oakley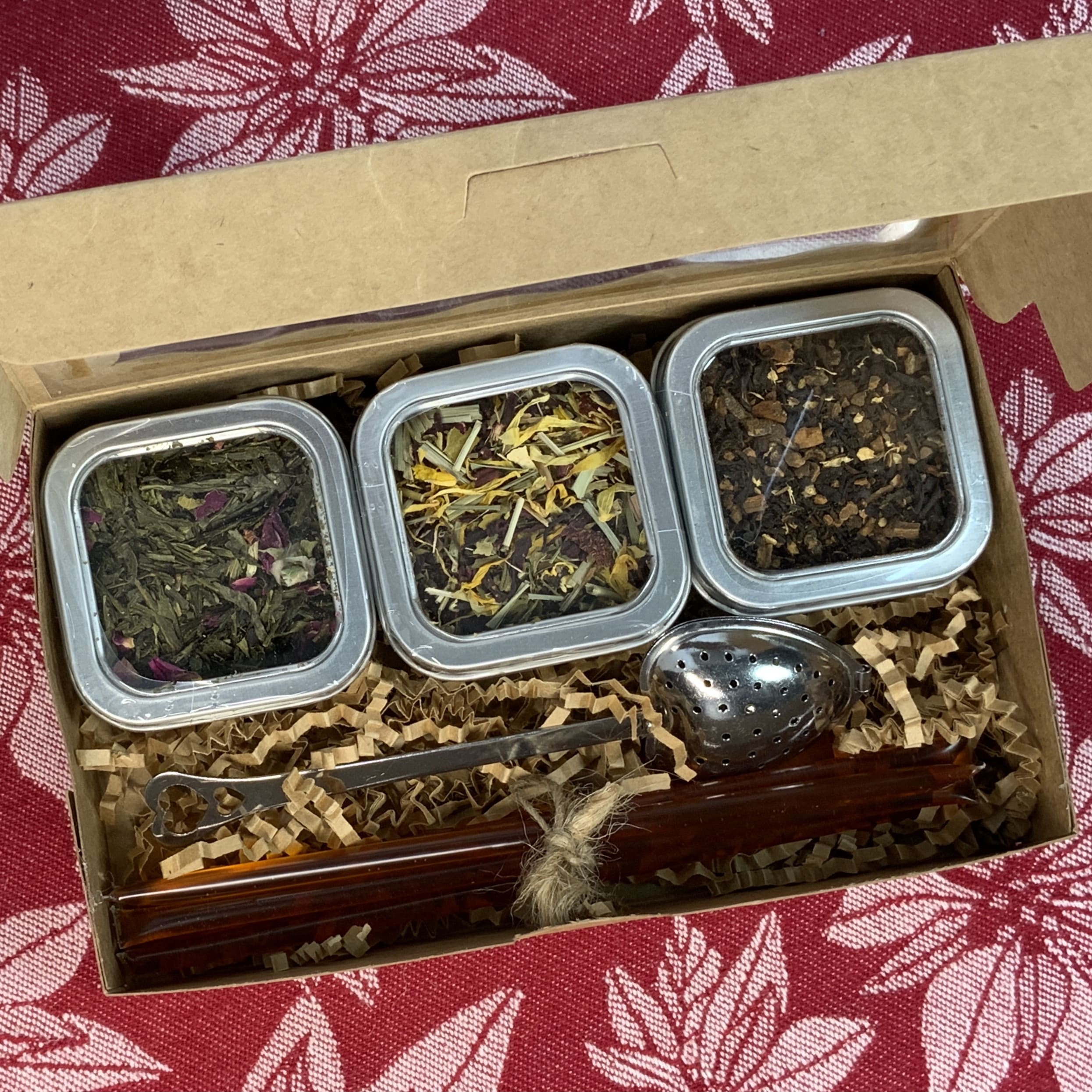 What pairs best with that fabulous Christmas sweater of yours? A cup of freshly brewed tea from this winter tea sampler, of course. The sampler offers 3 blends of green, chai, and herbal tea. Also included: 5 all-natural wildflower honey sticks and a heart-shaped tea infuser.
Buy Here: Life of Spice, Los Gatos
Let's get a head start on the New Year resolution and better yet, let's set it auto-pilot with 10% saving on auto-deliveries. Eating fresh and healthy was never this simple. The Frui box includes an assortment of seasonal varieties that change with the seasons and is curated by the very farmers who grow our delicious fruit.
Buy Here: Frui Fruit Box, Porterville, CA
Toys & Stocking Stuffers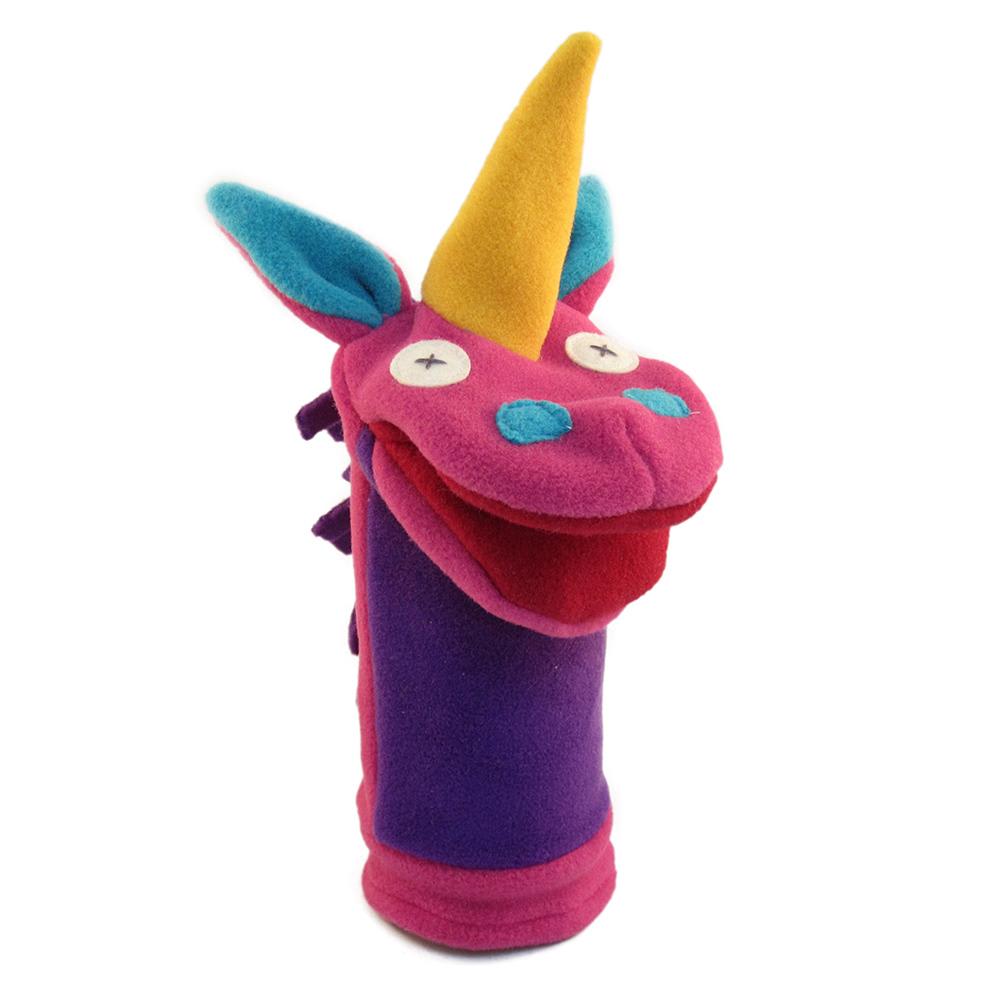 These unicorns prove that their magic knows no bounds. Sustainable and zero-waste, this unicorn puppet making sewing kit includes everything for creative DIYers to let their creativity get out of hand.
Buy Here: Reach & Teach, San Mateo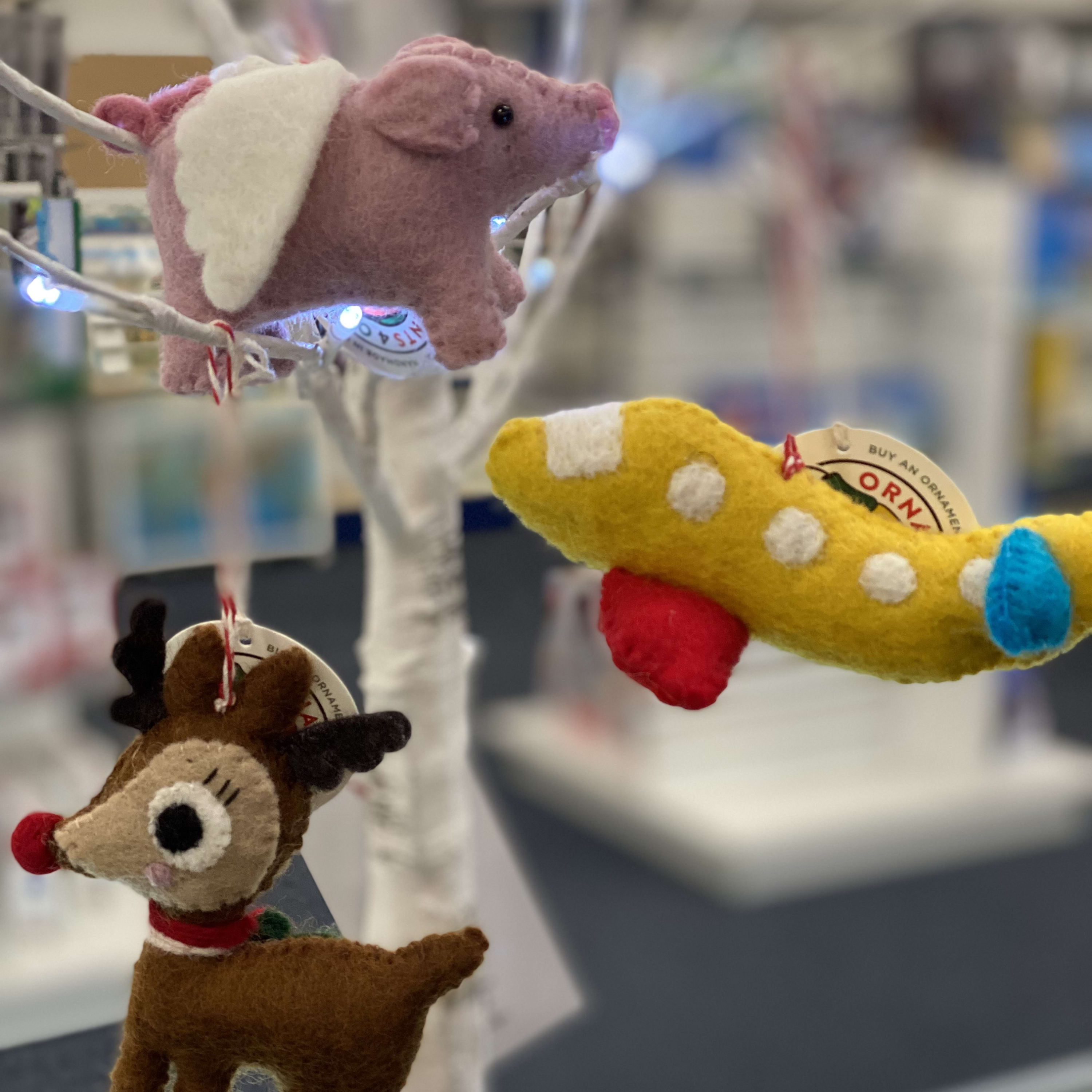 Reindeer, airplanes, and flying pigs — oh my! Let your Christmas spirit take flight with these handmade felt ornaments. Purchases go back to the community, providing jobs and keeping vulnerable families together.
Buy Here: Hiller Aviation Museum, San Carlos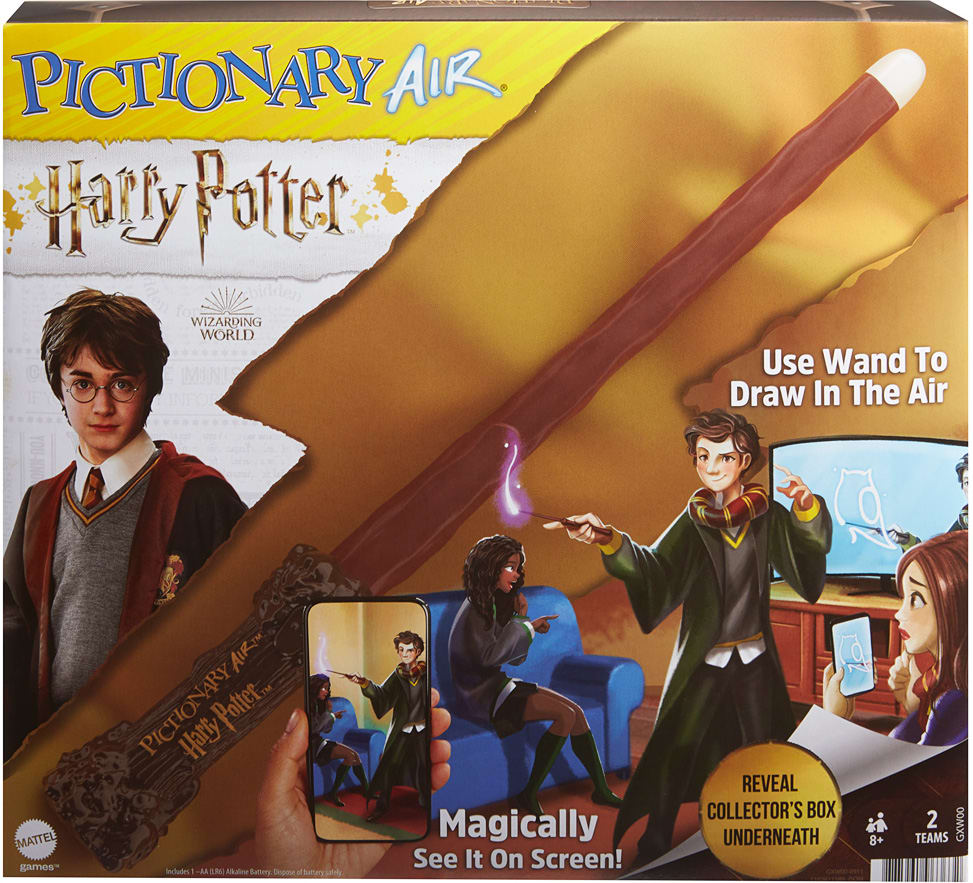 Gather around, witches, wizards, and muggles! This is a twist on the classic Pictionary with an Air Pen shaped as Harry Potter's wand! A magical way to spend time with your family.
Buy Here: Cheeky Monkey, Menlo Park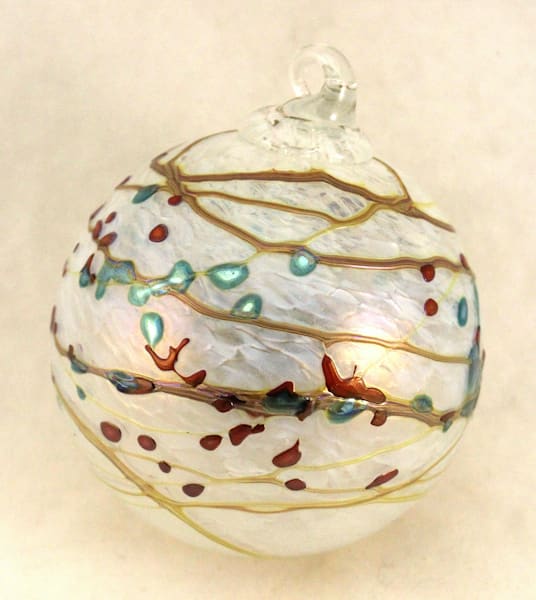 Bring an extra "wow" factor to your holiday tree with this hand blown art glass ornament. The ornament makes a special gift for the people who light up your life.
Buy Here: Hanson and Kastles Art Glass, San Carlos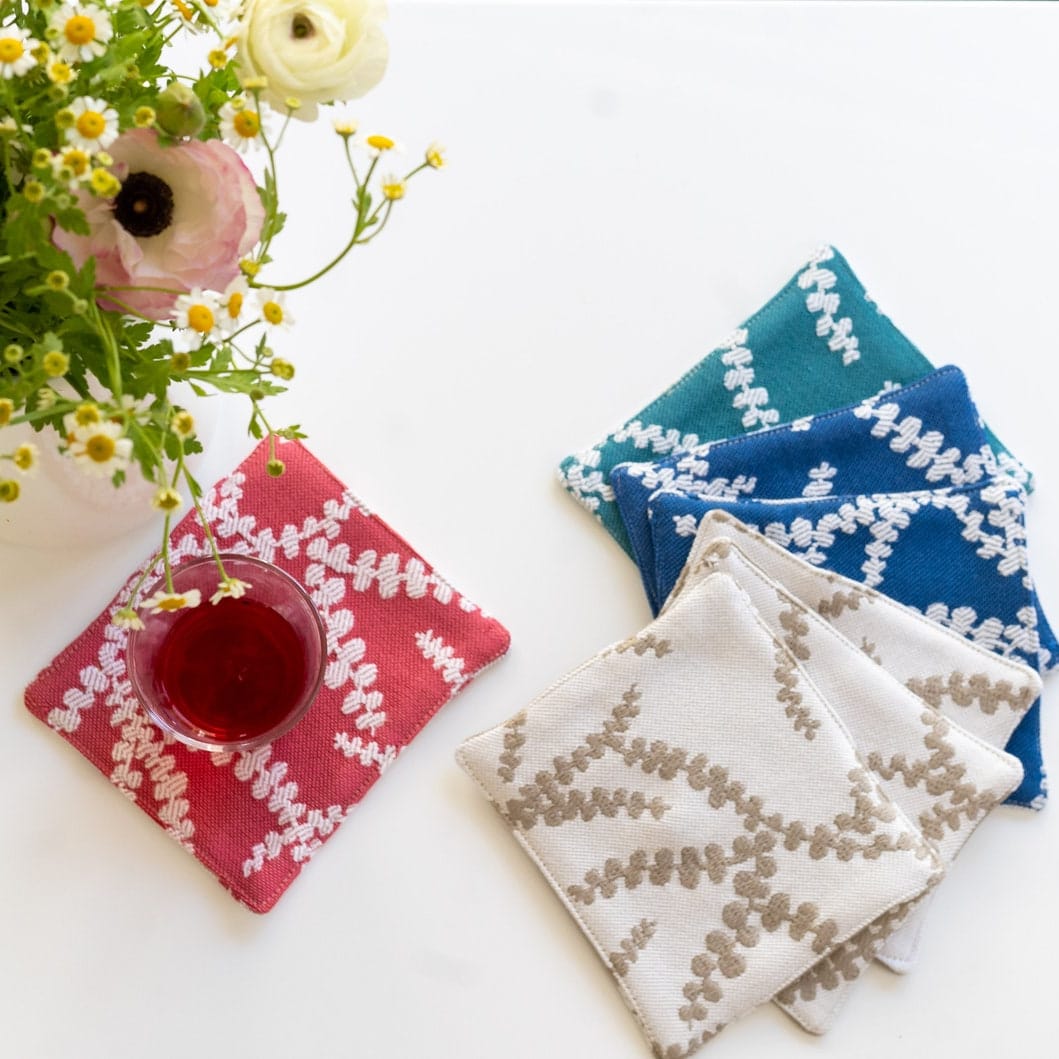 Cut the rug while you keep your mug on a rug! Made with upcycled designer textiles, the mug rugs come in various colors and textures to match any decor.
Buy Here: Kati Andi, Los Altos
Arts & Prints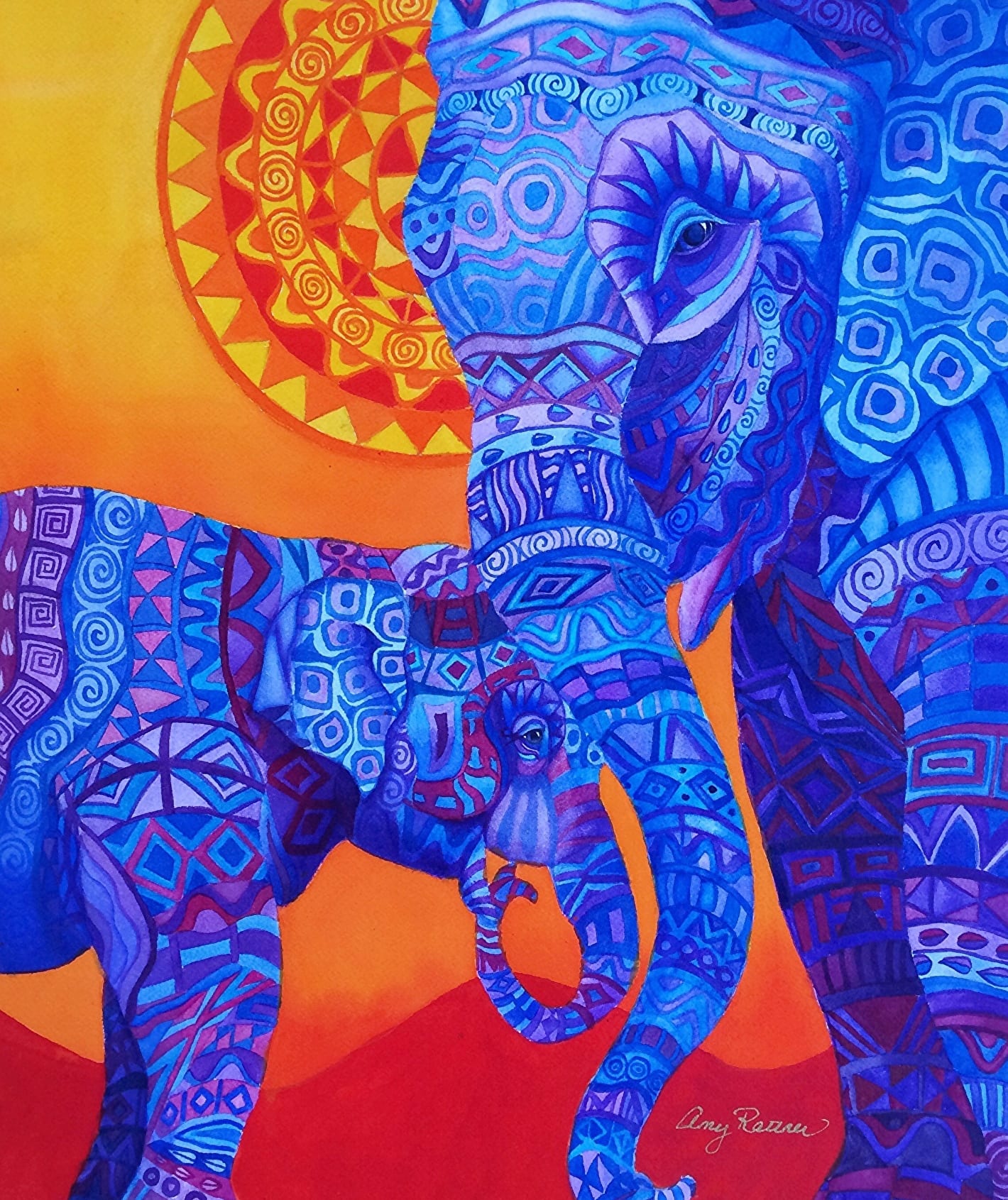 "Elephant Affection" by Artist Amy Rattner captures the tenderness of the holiday spirit in bold and brilliant colors.
Buy Here: Amy Rattner Art, Woodside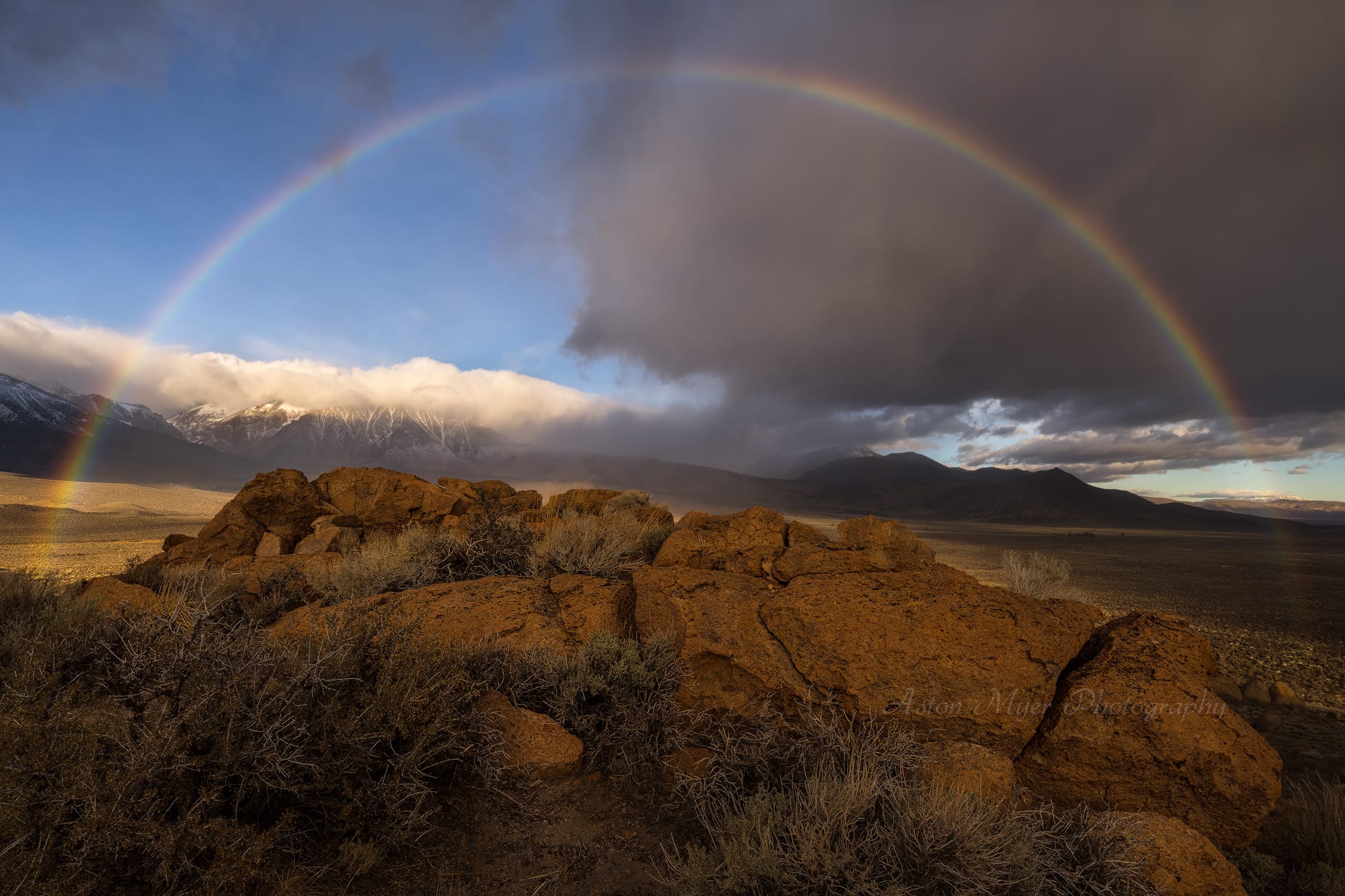 A rainbow among wave clouds in the Eastern Sierra brings reminders of hope and beauty. A natural gift choice for the nature lover in your life.
Buy Here: Aston Myer Photography, Los Altos Hills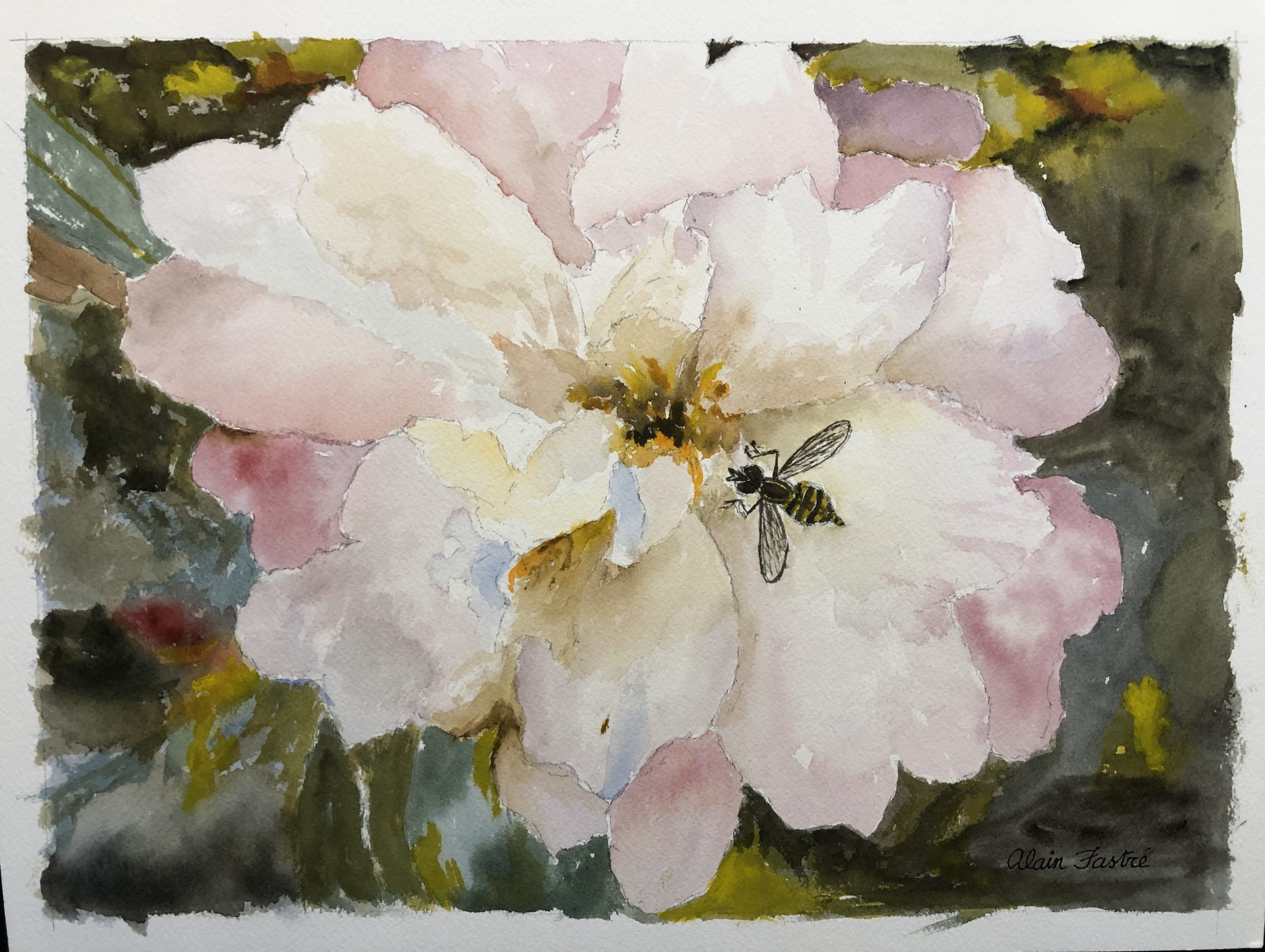 There's a story to be told about the camelia and bee captured in this peaceful moment. Artist Alain leaves it to your imagination or that of its lucky recipient.
Buy Here: Alain Art Paintings, Mountain View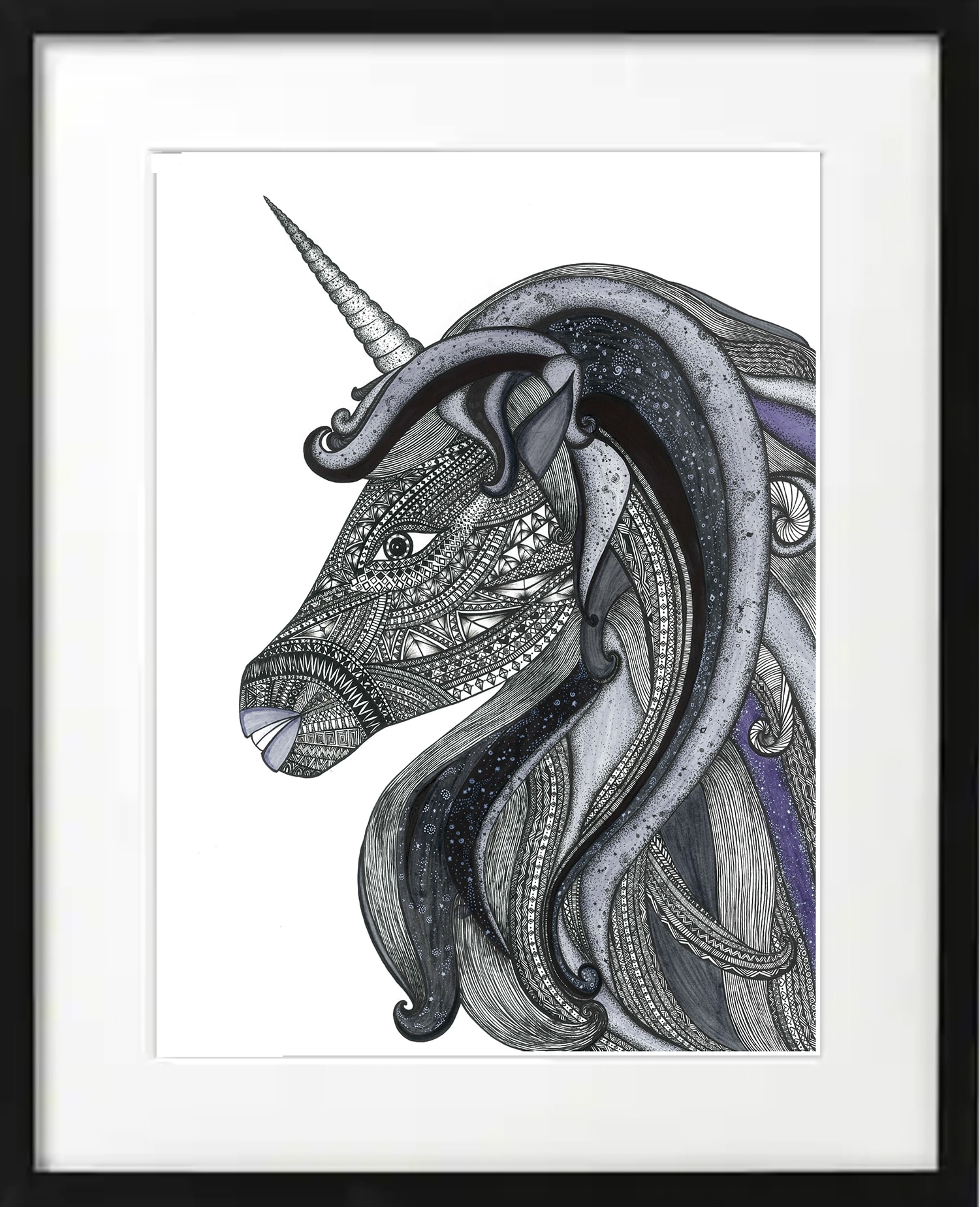 Behold the magic that the unicorn holds hidden inside the intricate details of this drawing. Artist Karriena reveals the secret in a card included with this high quality print.
Buy Here: Karriena Art, San Francisco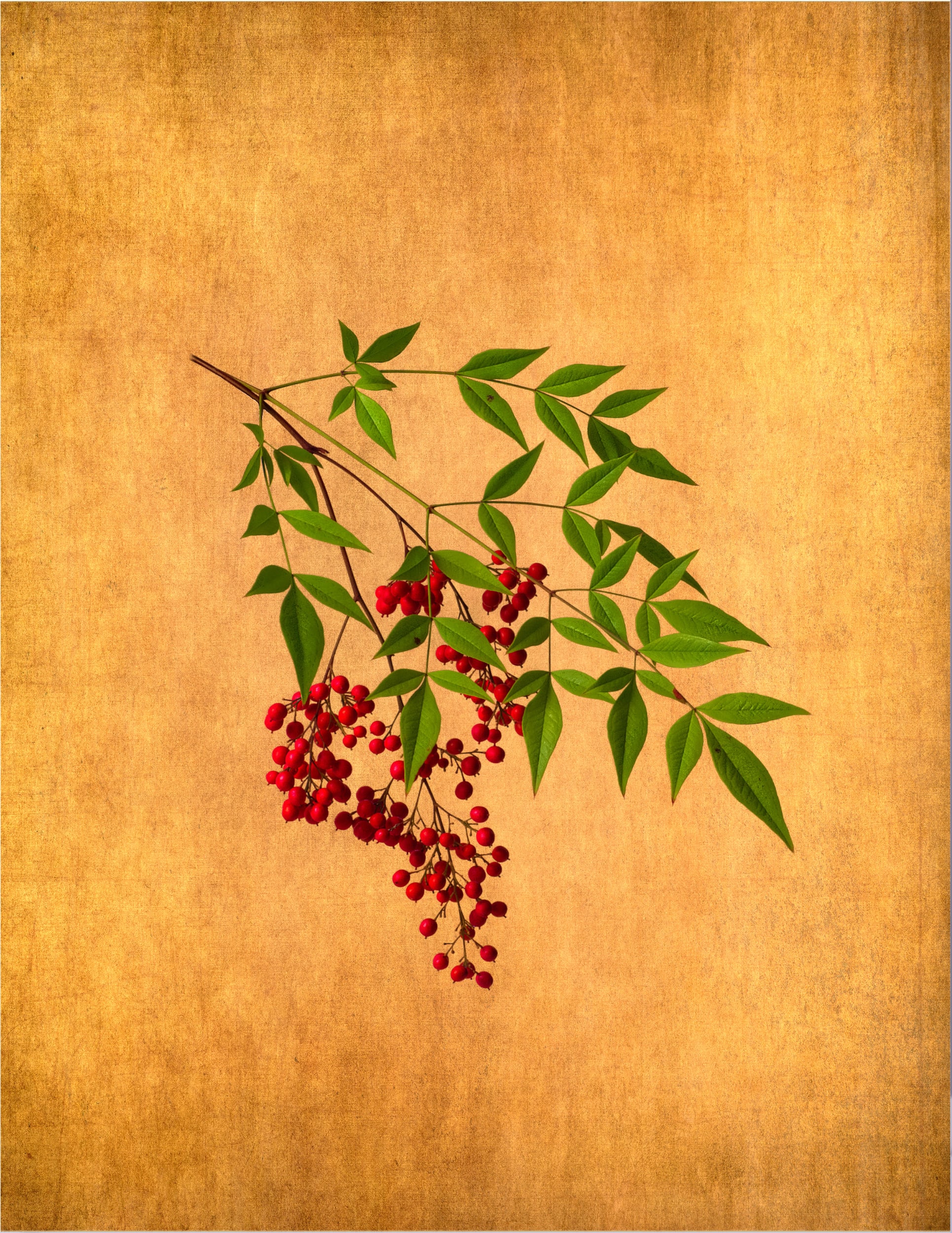 The warm hues of fall in these fine art prints can bring cozy vibes to any space. Enjoy the branches series in full effect by grouping the images together on the wall as a triptych.
Buy Here: 1066 Photographic Art, San Jose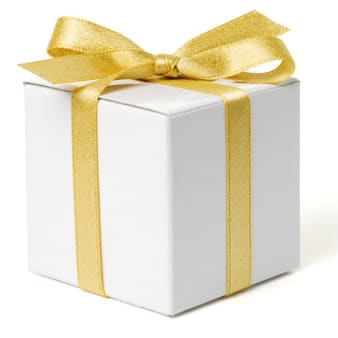 Looking for Thoughtful Gifts but too Busy? If you are strapped on time or need our help in putting together that unique gift basket, please email us hello@whimlocal.com or use this simple Gift Box google form to get the process started! Let's shop local and support small businesses!